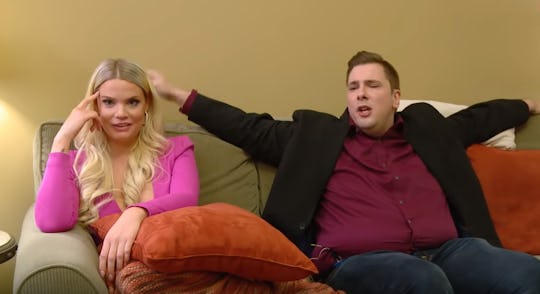 TLC/Youtube
Fans Have A Lot To Say About The '90 Day Fiance: Happily Ever After?' Tell All
With two new babies and two fresh divorces, this season of 90 Day Fiancé: Happily Ever After? was wilder than expected. During the reunion episode, the cast came together to rehash all their grievances, and managed to create some new ones along the way. After seeing the couples fight it out, fans shared their opinions on what went down with these tweets about the 90 Day Fiancé: Happily Ever After? Tell All special.
This season focused on six couples — Ashley and Jay, Colt and Larissa, Chantel and Pedro, Paola and Russ, Andrei and Elizabeth, and Nicole and Azan — most of whom got married on previous seasons of 90 Day Fiancé, where they married within 90 days of getting their K-1 immigration visas. Paola and Russ welcomed their baby boy, Axel, this season, and seem pretty happy as a couple. And while Elizabeth and Andrei are still at odds about getting help from Elizabeth's dad, they seemed genuinely happy together when they brought their new baby girl, Eleanor, home.
On the other hand, Colt and Larissa's marriage ended with the awkward tension it started with, after Larissa was arrested three times for assault. Ashley and Jay called it quits as well, because Jay apparently doesn't know what it means to be faithful. Nicole and Azan are still the biggest question mark of the show, as they still aren't married and haven't been seen together the entire season.
The Tell All special brought some of these couples' relationship drama to a head, and here's what fans had to say about it.