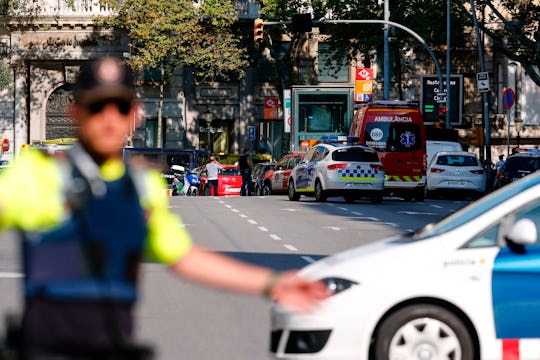 PAU BARRENA/AFP/Getty Images
Tweets About The Barcelona Van Crash Are Frightening
Eyewitnesses on social media are reporting a terrifying scene in Barcelona after a van crashed into pedestrians early Thursday evening. Soon afterwards, local media reported two armed gunmen had then taken several hostages in a restaurant near the city's center, though officials were unclear whether the incidents were related, Reuters reported. Tweets about the Barcelona van crash offer a frightening picture of chaos unfolding in the downtown area, in what police are calling a terrorist attack.
UPDATE: The Associated Press reported Thursday afternoon Eastern Time that as many as 13 people have died and as many as 30 have been injured.
PREVIOUSLY: CNN International reported that a van ran into a crowd of pedestrians in a popular area called Las Ramblas at just before 6:00 p.m. local time Thursday. According to that breaking report, a van crashed through a crowd of people, killing at least one person and injuring 32 more. According to Reuters, soon after those reports broke, Spain's El Periodico newspaper issued another breaking report that two armed men had entered a bar in the area and taken several people hostage. Gunfire was reported in the area, though El Periodico did not give the source of those reports, according to Reuters.
So far, there's been no confirmation on whether the incidents are connected. Still, the eyewitness reports coming through Twitter on Thursday suggested that — connected or not — the two incidents created an alarming scene in the city's center, as emergency and police crews scrambled to manage the chaos.
Within an hour of initial reports, local officials had moved from using terror protocols to manage the scene to calling the events in Barcelona "an act of terrorism," according to multiple news sources. On Twitter, the Catalonian police confirmed that the incidents were a terror attack, and at a news conference, Catalonian official Joaquim Forn told reporters that the numbers of dead and injured were "bound to rise" as the search for the assailants continued. By that time, officials were not willing to speculate on which groups might be responsible for the Barcelona attack, the New York Times noted in its report; as of late Thursday local time, none of the known militant groups had come forward to claim responsibility.
So far, seven people have been taken to a local hospital with serious injuries, CNN International reported, citing a statement from the Catalonian government. That outlet also reported that the area has been sealed off to pedestrians, and that emergency services had asked for all metro and train stations in the tourist area be closed until further notice.