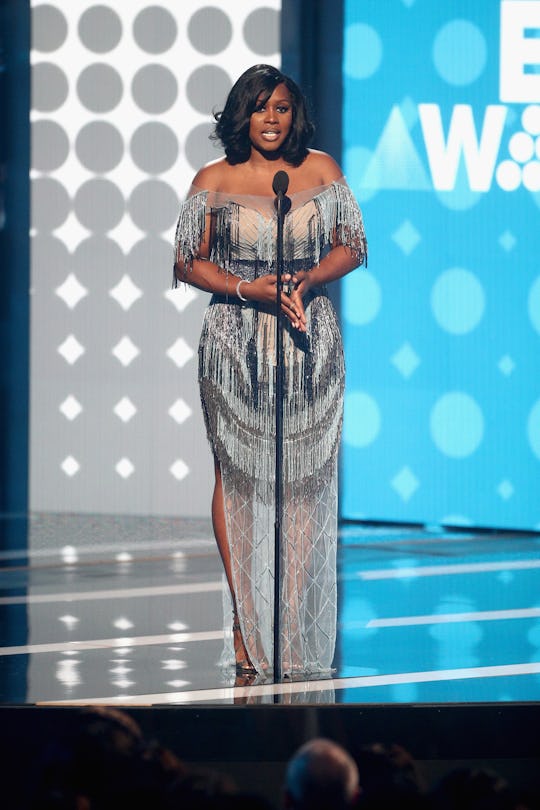 Frederick M. Brown/Getty Images Entertainment/Getty Images
Twitter Had Some Opinions About That BET Awards Conveyer Belt
You can't say they didn't try. During Sunday's BET Awards, viewers both at home and in the Microsoft Theater were more focused, it seemed, on the stage itself than the entertainers. And why not? If nothing else, the wild conveyor belt entrance proved that the BET Awards, like all other award ceremonies, just really needed to chill.
It's likely that show producers thought adding a turntable-esque platform to the stage would add some flair to every performance and each presenter entrance. And judging from the more successful gambles, you might have thought it paid off.
Then again.
"BET is trying it with that conveyer belt thing," one Twitter user joked, remarking on the number of people who had stumbled slightly on the moving walkway, on their way to the microphone. "Lord please don't let anyone fall because I will most certainly be laughing."
"If Remy would've fell on that conveyer belt...." another viewer tweeted alongside a gif of Mike Tyson laughing and clapping (classic), referencing rapper Remy Ma's entrance, in which she seemed to stumble slightly, stepping on the hem of her dress at one point.
One wise Twitter user was quick to point out that, hey, it's not easy walking on a moving conveyer belt in heels, thanks. "That conveyer belt is so stupid," they wrote. "You can tell the women are scared to walk on it."
Needless to say, the majority of Twitter was pretty evenly divided on the conveyor belt from hell:
This, of course, wasn't the first time the award show had utilized the mini "conveyor belt" stage; Back in 2015, Variety called the feature one of the show's "worst," explaining,
For whatever reason, BET continues to have a miniature conveyor belt for presenters to use before announcing awards. The airport staple seems like no place for the stage considering the number of female presenters who had a hard time finding their footing.
"They are coming out on some sort of conveyer belt!" one Twitter user tweeted at the time. "I knew i wasn't crazy. i see you set design team."
The feature hadn't won much love the year prior either, with one viewer tweeting humorously in 2014, "Is that conveyer belt really necessary?"
Whatever the case, it seems the conveyor belt of death is here to stay, given that BET award show producers have insisted on keeping it a fixture in the ceremony for the past few years, against all odds.
At this point, the only thing left to do is to accept it... and for those in high heels to hold onto something sturdy. (Godspeed.)