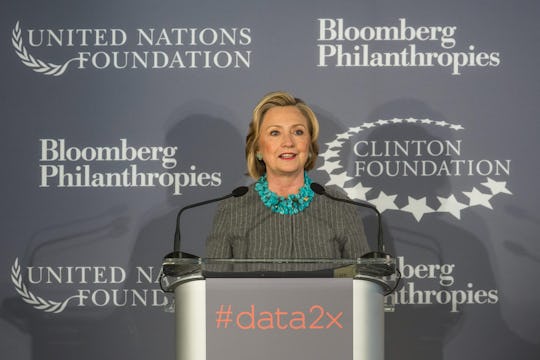 Andrew Burton/Getty Images News/Getty Images
Tweets About The Clinton Foundation & "Prep For Raids" Are Incredibly Misleading
With Election Day looming, there's no question that voters are feeling the pressure of this incredibly high-stakes — and incredibly close — presidential election. But a recent Fox News report claiming that the FBI is "moving toward an indictment" in an investigation into the Clinton Foundation has spread like wildfire through social media. The truth, though, is that the tweets about the Clinton Foundation and "prep for raids" are incredibly misleading. Why? Well, because a number of major news outlets have found that those claims just aren't true.
Claims of corruption against Democratic presidential nominee Hillary Clinton have long been a cornerstone of Republican presidential nominee Donald Trump's campaign, and are often cited as one of the major criticisms Trump supporters have about Clinton. So when Fox News' Bret Baier announced in a breaking special report Tuesday that a "very high priority" investigation into the Clinton Foundation by the FBI is yielding an "avalanche of new information," which could likely lead to an indictment, according to conservative news site Real Clear Politics, Trump supporters jumped on it, and are viewing the report as confirmation that Clinton is, indeed, as corrupt as Trump has claimed.
But that's not the only claim: on Thursday, True Pundit took the report one step further, alleging that the FBI is preparing for raids linked to the Clinton Foundation investigation, with an anonymous federal law enforcement source quoted as saying, "we're preparing for many arrests from the top down."
Those reports sound alarming, and to Republicans who feel strongly that Clinton is crooked, they likely also feel pretty vindicating. But according to CNN, Baier's report has pretty much been debunked, with prominent conservative news sites Breitbart and Drudge Report walking back their initial coverage. In fact, even Baier himself has seemingly since backtracked on his story, explaining that he spoke "inartfully."
MSNBC's chief justice correspondent Pete Williams was much more concrete in his assessment though. When asked by MTP Daily's Chuck Todd to clarify the status of the FBI's investigation into the Clinton Foundation, Williams said, "there really isn't one." He explained,
There was an initial inquiry that was opened a couple of months ago based largely on media reports and a book called Clinton Cash, and there were some initial things done in that, but FBI officials tell me there's been virtually no movement on that case for the last several months. So this idea that indictments are near or something like that, I'm told is just not true.
ABC News came to a similar conclusion, and noted that, in response to allegations in Clinton Cash that donations to the foundation may have been traded for access to Clinton while she was Secretary of State, the FBI did look into the Clinton Foundation to see if an investigation was warranted. But both the prosecutors and the FBI agreed that "there was no clear evidence of wrongdoing and that a criminal case tied to the Clinton Foundation could not be made."
In fact, it sounds like there may not have really been much evidence at all. A source told ABC News that the preliminary investigation "was not impressive," and that "It was not something that [prosecutors] felt they could authorize additional steps for."
Of course, that hasn't stopped Trump from attempting to use the reports to shore up voter support in the final days of the election. According to The Daily Mail, Trump suggested to supporters at a rally in Jacksonville, Florida that it was possible Clinton would be indicted:
It was reported last night that the FBI is conducting a criminal investigation into Hillary Clinton's pay-for-play corruption during her tenure as secretary of state. The FBI is investigating how Hillary Clinton put the office of secretary of state up for sale in violation of federal law.
The investigation is described as a high priority. It's far-reaching and has been going on for more than one year. It was reported that an avalanche of information is coming in. The FBI agents say their investigation is likely to yield an indictment.
According to CNN, Clinton's campaign called on the FBI Thursday "to put a stop to these baseless Fox News reports," and Clinton's campaign press secretary Brian Fallon tweeted, "This reporting has been debunked far and wide, and even by Fox News' standards, it was shameful for them to air it." Fox News did not immediately respond to Romper's request for comment.
So how will the Fox News report affect the election? It's hard to say. According to The Washington Post, the most recent polls show that the two candidates are still very close, with Clinton showing a small lead. With so few days left until the election though, it might be impossible to see the implications of the indictment allegations until after the polls close, and a new POTUS is announced.