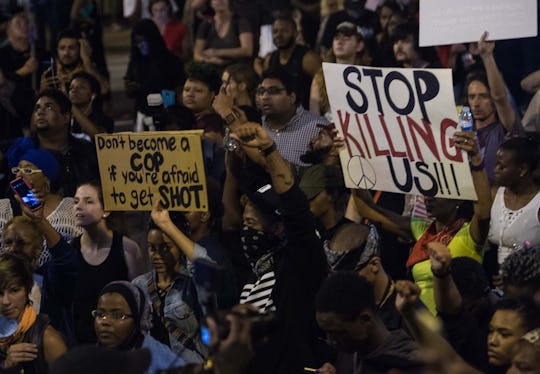 NICHOLAS KAMM/AFP/Getty Images
Tweets About The Keith Lamont Scott Ruling Reveal That Most Weren't Surprised By It
On Wednesday, the Mecklenburg, North Carolina, district attorney's office announced that no charges would be filed in the police officer-involved shooting death of Keith Lamont Scott, a 43-year-old married father of seven who was shot and killed on Sept. 20, 2016. The DA's office determined that Charlotte Officer Brentley Vinson — who is also African-American, as was Scott — was justified in using lethal force during his encounter with Scott. Tweets about the Keith Lamont Scott ruling show that Twitter was hardly surprised at all by the decision not to press charges against the 26-year-old officer. While the outrage over #BlackLivesMatter remains, it's clear that activists have grown weary.
On paid administrative leave during the investigation, Vinson was a member of the Charlotte Police Department for just two years at the time of the shooting, and his father was also a law enforcement officer. What has made this particular officer-involved shooting of an African-American different than some of the others that have made headlines over the last three years is that Vinson is also black. Still, there are many on Twitter who feel that the thin blue line is the color that gets preferential treatment above all others when it comes to finding justice.
Scott was shot by Vinson while he and three other officers were searching an apartment complex for another suspect with an outstanding warrant. The officers witnessed Scott holding a handgun while exiting his car and ordered him to drop his weapon. Vinson, who was not in uniform, fatally shot Scott when the man did not comply with police orders. There were plenty on Twitter who felt that not following police commands was justification enough for Scott to be shot; others countered that as North Carolina is an open-carry state — and that the DA said in Wednesday's press conference that Scott did not point his weapon at officers — he should not have been shot.
Scott's wife, Rakeyia, claimed at the time that her husband was merely reading a book in his car, and posted on Facebook Live a video showing Scott's final moments before the shooting, in real time. Many took to Twitter to share their sympathies for her and her family in the wake of Wednesday's ruling.
Other people on Twitter commented on the unique situation where Vinson was a black officer shooting another black man.
But across many of the tweets in the wake of Wednesday's ruling, there was a prevailing, almost defeated sense that the BLM movement — and the act of trying to find justice for black men shot and killed in officer-involved shootings — is just fighting an unending, uphill battle.