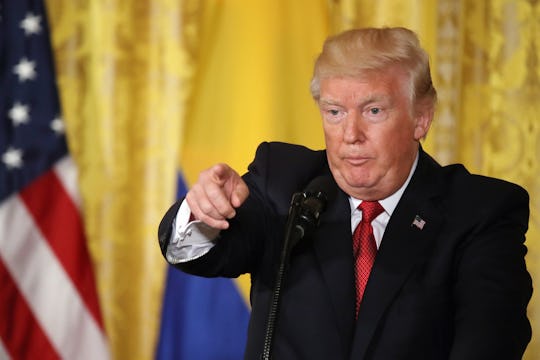 Mark Wilson/Getty Images News/Getty Images
Just Some Perfect Tweets About The Mar-A-Lago Sinkhole
On Monday, a 16-square-foot sinkhole opened up directly in front of President Trump's estate in Mar-a-Lago, and the real-life symbolism was just a bit too much for the internet to handle. After all, it's been an overwhelming couple of weeks in politics, and everyone has needed a bit of comedic relief. So the sinkhole's metaphoric possibilities, coupled with the emergence of a (slightly odd) picture of the president looming over a glowing globe this week, led to the creation of a few fantastic tweets about the Mar-a-Lago sinkhole.
The 4-by-4-foot sinkhole shut down a single lane of traffic on Southern Boulevard, according to Palm Beach traffic alerts, and sprung up near a recently installed water main. It's unclear why the sinkhole formed, but several Twitter users were willing to bet that it was linked to Trump's participation in a glowing orb ritual in Saudi Arabia last week. (Okay, okay, it was actually just a globe, not an orb, and the photo opp was part of the opening of Saudi Arabia's Global Center for Combating Extremist Ideology, according to Vox. But the globe photo did lead to some fantastic tweets of its own that are worth checking out.)
Without further ado, here are the best Mar-a-Lago sinkhole tweets coming out of Twitter at the moment:
Ah, nature. It knows just when to insert an appropriately-timed and placed sinkhole in order to reinvigorate Americans exhausted by the news, even if it was a relatively small and harmless sinkhole.
Trump left Saudi Arabia and its glowing globe on Monday, heading to Tel Aviv from Riyadh in what may have been the first flight between Saudi Arabia and Israel, according to the Associated Press. As part of his first international trip as president, Trump is expected to stay in Israel for two days and discuss peace talks between Israel and the Palestinians. According to the Associated Press, while in Saudi Arabia, Trump said that if Christians, Muslims, and Jews came together to fight radicalization, "peace in this world is possible, including peace between Israel and the Palestinians."
Considering the political storm brewing in the United States, it's a well-timed visit abroad for Trump. The president recently decried the appointment of a special counsel to the Russia investigation, tweeting:
This is the single greatest witch hunt of a politician in American history! With all of the illegal acts that took place in the Clinton campaign & Obama Administration, there was never a special counsel appointed!
The political world has been a little wild lately. Luckily, we have Twitter users' spot-on sense of humor to keep us all laughing as we cry (and read the news furiously in a futile attempt to keep up).