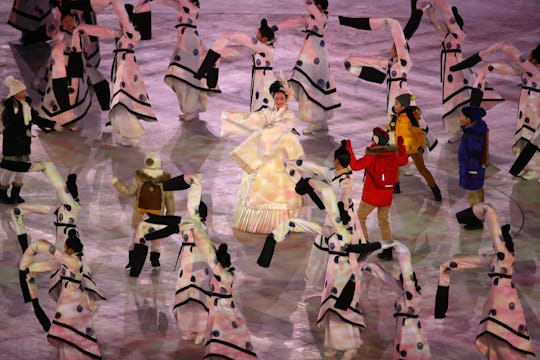 Sean M. Haffey/Getty Images Sport/Getty Images
Tweets About The Opening Ceremony Dancers Show People Are Majorly Impressed With Their Moves
There's no question that having the opportunity to perform at the 2018 PyeongChang Winter Olympics is a major honor for everyone involved, but while the athletes naturally get a lot of attention for their hard work, they're not the only ones putting in some majorly impressive effort. Tweets about the opening ceremony dancers show that people are seriously impressed with their stamina — somehow they've managed to keep moving throughout the entire Parade of Nations to help put on a great show.
While the opening ceremony dancers' job was clearly to provide some ongoing background entertainment while the athletes walked out to represent their respective countries, viewers definitely didn't miss the fact that they took that responsibility seriously, dancing the entire time without stopping. Naturally, that led to a lot of commentary on social media about the dancers' own athletic ability (like, seriously, someone give these people a medal), while others were particularly impressed with their commitment, even if their moves were somewhat less than cutting edge. I mean, were they not tired? Were their legs not burning? Was it all just an elaborate (yet totally brilliant) plan to make sure they didn't get hypothermia from the super cold weather in the roofless Pyeongchang Olympic Stadium? The answers to those all-important questions may forever remain a mystery but either way, they definitely deserve all the Twitter love that's been sent their way.
Of course, the dancers are but one part of South Korea's overall plan to make the opening ceremony a total stand-out event — after all, it's the host country's opportunity to celebrate its culture, and to show off what has no doubt been years of planning and careful coordination. And it certainly delivered: the ceremony kicked off with a segment featuring five children "[beginning] their time travel on a quest of peace," according to The Guardian, reflecting the theme of the opening ceremony itself.
But while that all sounds totally beautiful and lovely, the reality for the dancers actually sounded pretty challenging. That's because, according to The Guardian, the Parade of Nations actually lasted 56 minutes, meaning that the hardworking dancers were basically moving non-stop for the better part of an hour. And they did it all in some less-than-pleasant weather: the temperature inside the stadium is said to have been around 27 degrees.
Judging by the social media reaction though, it's clear that the dancers were a big hit, even though they definitely weren't intended to be the main attraction:
Although naturally many were worried about their physical wellbeing (it's not easy to dance for an hour, OK?):
One Olympic reporter though couldn't help but think that they definitely had the best plan to stay warm in the cold stadium:
And well, then there was this gem of a reference to Katy Perry's infamous Super Bowl performance — which, let's be honest, felt pretty on-point.
But I mean, these moves though. Incredible:
And there were even dancers keeping spectators pumped in the stands:
Although watching the opening ceremony dancers probably wasn't high on many people's list of things to look out for ahead of the show (or, well, anybody's list for that matter), it's clear that they turned out to be a pretty beloved part of the ceremony. And while they may have been a surprise hit, they definitely earned all the praise they were given on social media after working so hard to entertain the crowd.
It's unclear what's next for the dancers after making their mark at the PyeongChang Winter Olympics, but something tells me that, at this point, they've probably all earned themselves the right to take a nice, long nap (that's definitely what I'd do, anyway).
Check out Romper's new video series, Romper's Doula Diaries:
Watch full episodes of Romper's Doula Diaries on Facebook Watch.