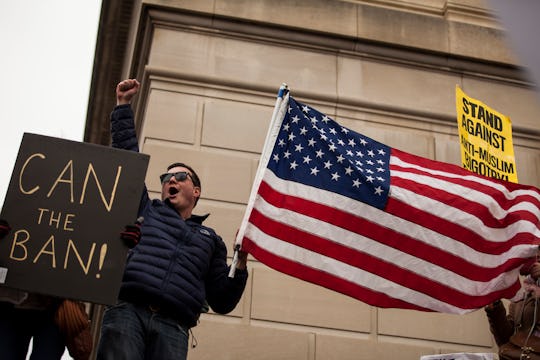 Zach Gibson/Getty Images News/Getty Images
Twitter Reacts To The Latest Travel Ban Block
Although the "new and improved" travel ban from the Trump administration isn't slated to go into effect until 12 a.m. Thursday, a federal judge in Hawaii has already blocked the ban at (basically) the last minute. This means that people coming from the six countries listed in the order will be able to travel freely into the United States, though there will more than likely still be some confusion at airports nationwide, as there was when Trump's first order was challenged, earlier this year. Of course, to no one's surprise, social media found this all pretty amusing and tweets about the travel ban being blocked — many centering around Trump's inability to get this kind of legislation passed and how frustrating it might be for him — immediately flooded the internet.
Trump's first ban, which was introduced in late January basically overnight was similarly blocked by a Seattle judge and ended up in the 9th Circuit Court of Appeals, which decided that the administration didn't have enough proof that there was an imminent threat to the U.S. by allowing travelers in. This new ban was therefore more "narrow," but still blocked by Hawaii's U.S. District Judge Derrick K. Watson on the same basis — that this is essentially a ban on Islam, a religion, and that goes against every single fiber of the paper the American Constitution is written on. But mainly the First Amendment.
Twitter had a field day, obviously.
How Frustrated Trump Must Be
But People Who Love The Constitution Are Stoked
The administration fought for the ban, which bars entry to the U.S. from Iran, Somalia, Sudan, Yemen, Syria, and Libya indefinitely and refugees from anywhere in the world for 120 days, all day in court, citing that the president had more authority when it comes to matters of national security and that this ban was not a Muslim Ban, but a Travel Ban. While they are right— the president does have some extra executive powers when it comes to national security — the opponents of the ban argued that based on Trump's past statements on the campaign trail, this was by all means a ban on Muslims.
"Are you saying we close our eyes to the sequence of statements before this?," Watson asked during the hearing. He was referring to Trump's own promises of a ban on Muslims before the election, comments from his campaign team, and even Rudy Giuliani's remarks in the media that Trump had asked him to come up with a way to instate a Muslim ban that would hold up in the courts.
The judges also cited Trump advisor Stephen Miller saying on Fox News that this new ban would have the same "basic policy" effects as the first one, even though that first had been ruled unconstitutional. It's not the "liberals" that are killing this Muslim Ban — it's Trump's own friends.
Judge Watson was not having any of it:
The illogic of the Government's contentions is palpable. The notion that one can demonstrate animus toward any group of people only by targeting all of them at once is fundamentally flawed. Equally flawed is the notion that the Executive Order cannot be found to have targeted Islam because it applies to all individuals in the six referenced countries. It is undisputed, using the primary source upon which the Government itself relies, that these six countries have overwhelmingly Muslim populations that range from 90.7 percent to 99.8 percent.
This ruling means that states are asked to issue temporary restraining orders, much like was done back in January over the first ban, and similar rulings are expected in Maryland and Washington state on Wednesday before the ban is expected to go into effect. That a Hawaiian federal judge has already blocked the ban means that other states are likely to rule in similar fashion.
More to come...