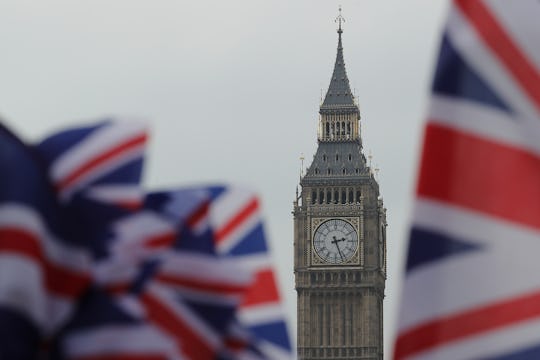 Dan Kitwood/Getty Images News/Getty Images
Tweets About The UK Parliament Attack Reveal Worldwide Fear
According to the BBC, a police officer was stabbed in the Houses of Parliament in central London on Wednesday, March 22, seizing the entire country and world by shock and surprise. And tweets about the U.K. Parliament attack only further illuminate the confusion and terror at the scene, as well as hope for a quick resolution at the scene of the attack. In a statement given by the London Metropolitan Police, the attack is being treated "as a terrorist incident until we know otherwise." CNN reported that attack on the officer took place as Parliament was still in session, and the suspected gunman was shot down by police near the British Houses of Parliament.
Update: According to the Associated Press, British police late Wednesday evening raised the death toll in the Parliament attack to five. At least 40 people were injured.
House Leader David Lidington gave the following statement the London Metropolitan Police:
It seems that a police officer has been stabbed, that the alleged assailant was shot by armed police. An air ambulance is currently attending the scene to remove the casualties. There are also reports of further violent incidents in the vicinity of the Palace of Westminster but I hope colleagues on all sides will appreciate that it'd be wrong of me to go into further details here until we have confirmation from the police and from the House security authorities about what is going on.
The statement, published by CNN, also includes confirmation from Lidington that the attack took place "within the estate." The website for The Guardian confirmed that critical injuries are being treated following the U.K. Parliament attack.
Almost immediately following news of the attack, the world once again gathered to mourn the news of another senseless attack, as well as share in the hope that confusion, fear, and unrest will settle shortly.
This Image Was Shared Far And Wide With Touching Messages
Tweets Highlighted The Unnerving Silence Of The Scene
Many Turned, Once Again, To Hope
Others Were Quick To Pay Tribute To Those Rushing To Help
This Poignant Tweet Speaks For Itself
The attack Wednesday in London is yet another terrifying reminder that, in the world we live in today, tragedy is always inches away from striking. Though that's not meant to inspire fear or to live with a pessimistic view of those around us, it's an important realization to have. Even though there is much to be scared of in this world, the hope for the future rests on the ways in which we come together to help those in need in times like this.
These tweets represent just a fraction of the ways people from the world all over have immediately come together following the attack. And the helpers will only continue to grow as more information trickles out.