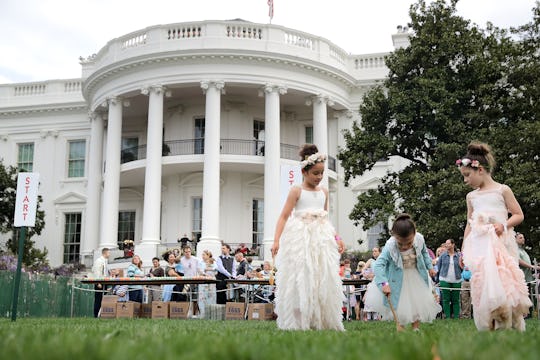 Chip Somodevilla/Getty Images News/Getty Images
The White House Easter Egg Roll Didn't Go Smoothly...
The annual Easter Egg Roll has been an official White House tradition since 1878, when former President Rutherford B. Hayes flouted federal law to invite little egg-rollers to the White House lawn. On Monday morning, President Donald Trump and first Sady Melania Trump continued the time-honored tradition, welcoming 21,000 people to race pastel and golden eggs across the South Lawn. Compared to previous years, Monday's event seemed like a wash. Just read through these tweets about the White House Easter Egg Roll, which are as funny as they are eye-opening.
If media accounts are any indication, the 139th White House Easter Egg Roll seemed doomed from the start. According to POLITICO, the White House had a late start in planning the annual festivity, which is the Trump administration's first big public event. POLITICO also reported that White House officials "have gone out of their way to lower expectations;" where former President Barack Obama had 37,000 attendees for his last Easter Egg Roll, Press Secretary Sean Spicer reported a guest list of 16,000 less. And where Beyoncé made a surprise appearance, the Trump administration invited boy band Bro4 and the Nashville-based six-person family band, the Martin Family Circus, according to CNN.
Of course, Twitter users had some thoughts about Monday's Easter celebration.
The Easter Egg Roll is one of the largest White House events of any presidency. It began well before Hayes took office, but was given an official designation after the 1878 event. As The Washington Post noted, this year's White House Easter Egg Roll was Melania Trump's chance to show her event-planning talents. But I can't agree with The Washington Post that the event went off without a hitch. Although technical and logistical difficulties may not have occurred yet, there were little moments that revealed the cracks of the Trump administration.
First, Spicer — press secretary and former right-hand Easter Bunny of the George W. Bush administration — was spotted reading to children before President Donald Trump, according to CNN. Then, as New York Daily News reported, Melania Trump had to nudge her husband to raise his hand during the National Anthem. There's also the notable lack of families of color and the PAAS-sponsored White House bunny. Plus, the guest list is far smaller than previous years, not only during Obama's presidency. It's hard to see a lackluster event as a sign of good things to come.
According to the White House website, the Easter Egg Roll is expected to end just before 7 p.m. Eastern Time on Monday. Who else can't wait to see what Twitter has in store?