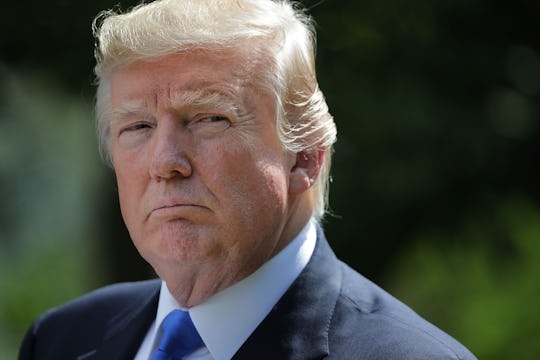 Chip Somodevilla/Getty Images News/Getty Images
Tweets About Trump Banning Transgender People In The Military Are Rightfully Angry
On Wednesday morning, President Donald Trump announced in a series tweets that transgender people will be prohibited from serving in the United States military. And the responses and tweets about Trump banning transgender people in the military point out the hypocrisy of his decision, and how it's harmful to the country.
Trump went on Twitter at about 8 a.m. Eastern Time to explain that, after an alleged consultation with "my generals and military experts," the United States will not "accept or allow" transgender people to serve, according to the New York Times. The president claimed in three tweets that this decision was made because the "military must be focused on decisive and overwhelming victory," therefore the federal government could not be bothered to fund medically-necessary health care for transgender service members.
The announcement comes nearly two weeks after the Republican-controlled House of Representatives defeated a defense spending bill amendment that would have banned the U.S. military from covering the costs of gender-affirming care, according to ThinkProgress. The anti-transgender amendment failed in a 209-214 vote.
People were angry about Trump's decision to ban transgender service members, reservists, and recruits. They took to Twitter to criticize the president's announcement, as well as express their outrage over a discriminatory policy reversal.
Last year, the Pentagon lifted its ban on letting transgender people serve openly in the U.S. military, according to CNN. The policy change was seen as a major victory for transgender rights for a number of reasons; not only did the update allow for transgender people to enlist, it also ended the discriminatory practice of discharging trans service members because of their gender identity. The Obama-era policy change, made by then-Defense Secretary Ashton Carter, also assured that transgender military members would receive the same medical care as their peers, CNN reported.
Part of the Pentagon's plan, though, has been put on hold by Defense Secretary Jim Mattis for six months, at the request of the Joint Chiefs of Staff, according to the Washington Post. Mattis claimed to have delayed the policy in order to accommodate another review of accession plans and its potential impact. He announced his decision on the eve of July 1, 2017, the deadline set by Carter to start accepting transgender recruits, the Post reported. That date is now set back to Jan. 1, 2018.
The Pentagon's decision did away with one of the last policies banning a group based on their identity. In fact, Wednesday was the 69th anniversary of President Harry Truman's Executive Order 9981 that desegregated the armed forces. The irony of Trump's decision was not lost on the public.
Trump's rationale for the ban is under heavy scrutiny — and rightfully so. Many people disbelieve that the decision was made with costs in mind. After all, according to Axios, an official with the Trump administration said that the president's policy change reversal "forces Democrats in Rust Belt states like Ohio, Michigan, and Wisconsin, to take complete ownership of this issue." The official continued,
How will the blue collar voters in these states respond when senators up for re-election in 2018 like Debbie Stabenow are forced to make their opposition to this a key plank of their campaigns?
Trump's policy reinstating of the ban discriminates against up to 7,000 openly transgender service members on active duty, as well as thousands who are in the reserves, according to VoteVets. The organization, founded in 2006, said in a petition statement that the president's decision "puts our national security at risk," adding,
But as much as that matters, imagine how it would feel this morning to be a trans service member who volunteered to defender their nation, only to be told that their service wasn't good enough... and to be told that by a man who never had the courage himself to serve.
In response to Trump's announcement, Joshua Block, senior staff attorney with the American Civil Liberties Union's LGBT & HIV Project, took to Twitter to offer his services to all transgender service member or reservist. Block said in a statement about the news,
This is an outrageous and desperate action. The thousands of transgender service members serving on the front lines for this country deserve better than a commander-in-chief who rejects their basic humanity.
The ACLU attorney added,
Let us be clear. This has been studied extensively, and the consensus is clear: There are no cost or military readiness drawbacks associated with allowing trans people to fight for their country. The president is trying to score cheap political points on the backs of military personnel who have put their lives on the line for their country.
The Pentagon has yet to issue a statement in regard to Trump's decision reversing the ban. Mattis is currently on vacation, according to CNN. People on Twitter, of course, have pointed out the suspicious timing of Mattis' vacation and Trump's announcement. Plus, Carter's policy decision lifting the ban on transgender service members remains on the Department of Defense's website.
It's hard to see the president's Twitter announcement as anything but a misguided and harmful political move that plays with people's lives. Whether or not this ban will stand remains to be seen, but for now, Trump has launched an attack on thousands upon thousands of people protecting the country he claims to love.