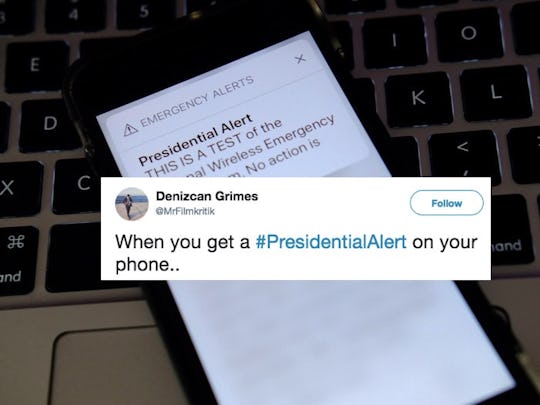 Theo Wargo/Getty Images News/Getty Images
Trump Just Sent His First Presidential Alert To Everyone's Phones & Twitter Had A Lot To Say
If you have a cell phone (and who doesn't?), you just received a presidential alert, the first Wireless Emergency Alert message sent by FEMA on behalf of the White House and President Donald Trump. So far, though, tweets about Trump's presidential alert on Wednesday show that no one wanted this "test" and Twitter, as per usual, was chock full of jokes.
As you saw on your phone, the presidential alert read: "THIS IS A TEST of the National Wireless Emergency Alert System. No action is needed."
The message was sent out nationwide during a 30-minute period and reached an estimated 225 million people, according to The Washington Post. It's not the first alert cell phone users have received; these types of alerts are usually sent to inform about AMBER alerts and natural disasters. But, this was the first of its kind coming directly from the office of the president. FEMA had planned to send the alert out in September, but postponed because of Hurricane Florence, according to CNN.
The alert is specifically used to inform the nation of "grave public emergencies, such as a terrorist attack or an invasion," according to the Federal Emergency Management Agency, as The Washington Post reported on Wednesday.
While cell phone users can opt out of AMBER alerts and weather warnings, there is no way to avoid these presidential alerts, according to CNN.
For some, this brought up memories of the false alert sent out to Hawaiian residents about an impending missile threat, according to CBS News. It turned out that a state official mistook a drill for a real and present danger, as CBS News reported at the time. Many are hoping a mistake of the magnitude will not be made with the presidential alerts.
While the alert hit hundreds of millions of phones, there were some that didn't receive it at all, according to Heavy. If your phone was turned off or if you were out of range from a cell tower, you probably didn't get it, as noted by Heavy.
Immediately after the alert reached Americans' phones across the nation, #PresidentialAlert started trending on Twitter. And here's a look at what people had to say about the alert they received.
Some Reacted With Humor
Others Reacted With Anger & Questions
The fact that pretty much everyone experienced the first ever presidential alert shows just how reliant we are on technology. Our phones are either always in our hands, or very close by.
Contrary to popular belief, these messages are not being sent from Trump himself, as CNN explained. The name of the alert might give the public this perception. But, these are pre-written messages that are designed specifically for each potential situation, as FEMA officials told CNN.
In a press conference held prior to the release of the text, according to Vox, FEMA officials told reporters:
The President will not originate this alert, say, from his mobile device. You would not have a situation where any sitting president would wake up one morning and attempt to send a particular message.
As of now, the nation can expect to receive a presidential alert only in extreme situations. And while some see it as a nuisance, it's just another method of communication. Although, the jury is still out about how helpful it will actually be.