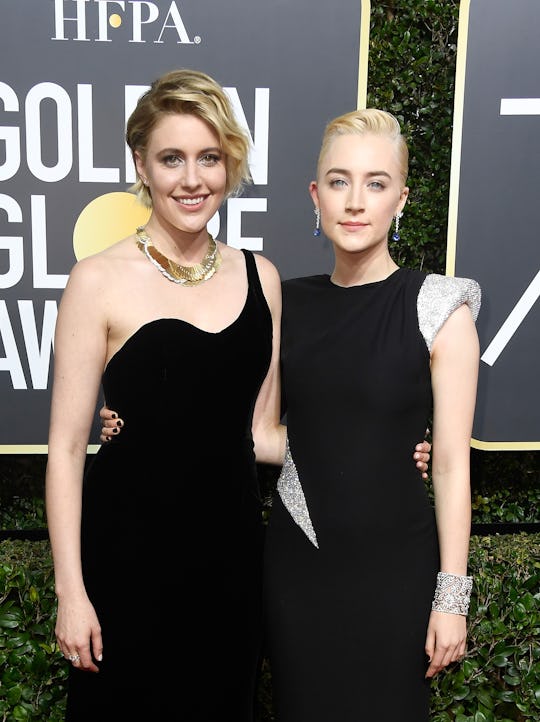 Frazer Harrison/Getty Images Entertainment/Getty Images
Stars Are Wearing Black To The Golden Globes & The Response Is... Mixed
Think pieces about the Golden Globes started a month before the actual broadcast when news first broke that the women of Hollywood would be standing in solidarity amidst the sexual misconduct reckoning by wearing black this awards season. It garnered criticism almost immediately as yet another empty, silent gesture when, some argued, this was a moment for explicit, vocal dissent. Tweets about women in black at the Golden Globes ran the gambit from supportive, to cautiously optimistic, to frustrated callouts. And honestly, all those reactions are pretty valid.
A common complaint is that the simple task of wearing black, which so many women do at award shows anyway, is just a feel-good moment of virtue signaling for powerful white celebrities who are exalted for doing the bare minimum instead of meaningfully fighting against the systems responsible for keeping them in power. Golden Globe nominee Issa Rae — who will be wearing black, but also has a history of action and uplifting black women's voices to back her up — sees the gesture as a symbolic toppling of Hollywood's so-called "golden age." This time period is frequently romanticized and referenced with fond nostalgia, when it was actually an incredibly oppressive and destructive atmosphere for anyone who wasn't a white man. Rae told Elle:
In a good way, it just feels like the death of old Hollywood. Being an African American woman, I can't help but think about our funerals, which are kind of lit. Obviously, there are points of grieving, but afterwards it's like a celebration of life, and you kind of turn up, and I feel like that's what this will be. It's like a celebration.
Twitter, as expected, had mixed opinions on the women (and men) wearing black at the Globes.
One especially popular critique was directed toward the actors and actresses who have worked with Woody Allen: an awards circuit darling whose films virtually guarantee their actors a bevy of nominations. Although Allen has stood accused of sexual assault for years, most notably by his daughter Dylan Farrow, the #MeToo movement, which brought down serial sexual abusers like Harvey Weinstein and James Toback, has somehow spared Allen. In 2014, he was awarded the Cecil B. DeMille Award for lifetime achievement, after which Farrow detailed her alleged abuse in an open letter published in the New York Times. Allen denied the allegations in a followup piece for the New York Times. A representative for Woody Allen did not immediately respond to Romper's request for comment. He continues to make films which garner accolades and, perhaps more troublingly, the same A-list actors who purport to be fighting against sexual abuse this awards season continue to accept roles in his movies.
Others thought it hypocritical for Hollywood to all of a sudden band together to fight sexual violence when it has been going on for decades as a relatively open secret. It's an understandable resentment to harbor on behalf of the women who have suffered for so long, lost jobs, and effectively been blackballed from the industry for coming forward, only for us to finally be reaching a "cultural moment" of consciousness and sympathy now. It's frustrating to witness a sea change only when it's "safe" to do so because such a vast majority of people support it.
Still others appreciated the gesture for what it was. And, in fairness, a lot of celebrities did use the platform to shine a spotlight on how sexual harassment disproportionately affects women of marginalized identities. Several prominent actresses also brought lifelong activists who fight for women's safety in the workplace to illustrate how sexual misconduct is rife across all industries.
It was actually pretty refreshing to see a robust debate on Twitter weighing the merits and flaws of a gesture like wearing black to the Golden Globes. Obviously, there's no one perfect way to "protest" effectively, but it was encouraging to see so many celebrities at least try to change the conversation on the red carpet.
Check out Romper's new video series, Romper's Doula Diaries:
Watch full episodes of Romper's Doula Diaries on Facebook Watch.