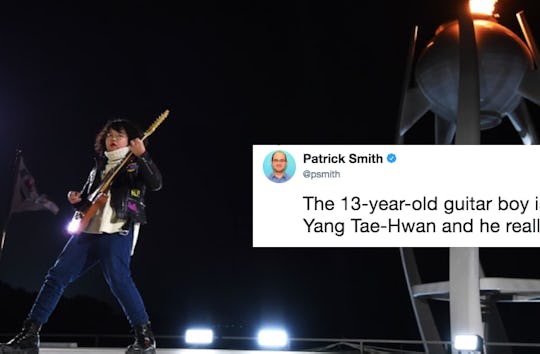 Pool/Getty Images Sport/Getty Images
Twitter Is *Loving* The 13-Year-Old Guitarist At The Winter Olympics Closing Ceremony
At every Olympics closing ceremony, the host nation chooses to highlight certain people, things, and aspects of their culture that makes their own culture unique and special. Tonight's closing ceremony of the 2018 Winter Olympics in PyeongChang, South Korea was no exception to this, choosing to highlight one very unique person — teenage guitarist, Yang Tae-Hwan. People on Twitter were loving him, and the tweets about Yang Tae-Hwan really show just how impressed people by his skills.
Sure, there was a lot about the closing ceremony that was worth tuning in for. People had the opportunity to get one last look at the amazing, inspiring Olympic athletes as they exited the stadium, and had one last and final chance to take everything in before having to say goodbye to the Olympics for good until the next opening ceremony in Tokyo, Japan during the 2020 Summer Olympics in two years.
Unlike the opening ceremony that happened just two weeks ago, the closing ceremony is a "party," according to one NBC commentator, celebrating the ending of a great competition. And Yang Tae-Hwan definitely made the party just that — a party — with his killer guitar skills. People on Twitter seemed to agree that Yang Tae-Hwan brought the party to the closing ceremony, taking to the website to share their excitement over the teen.
Sometimes, all the hope that is left in the world lies in the hands of a 13-year-old guitar player from South Korea.
But age is nothing but a number when it comes to being seriously impressive.
But who, exactly, is Yang Tae-Hwan? If his performance at the closing ceremony had you incredibly curious about the fluffy haired teen in glasses, you're not alone. After his killer performance, it shouldn't come as a surprise that many people are dying to know more about Yang Tae-Hwan.
Lucky for you, it's not too hard to find information about Yang Tae-Hwan out there. He is a bit of a guitar protege, according to HuffPost, especially since he is only 13-years-old. But this isn't a skill that Yang Tae-Hwan just learned — a video of him playing guitar at age 10 shows that he has been skilled at guitar playing for years. Seriously, he is incredible.
Yang Tae-Hwan is also a bit of a YouTube sensation, according to Cosmopolitan. His YouTube channel (which is reportedly run by his older sister) has plenty of videos of him playing covers and shredding on the guitar. If you couldn't get enough of Yang Tae-Hwan playing the guitar at the opening ceremony, then the videos posted to his YouTube channel can definitely satisfy that need for more.
But if you just need to watch Yang Tae-Hwan's super impressive bit from the closing ceremony instead of just watching his YouTube videos, you can see it over and over again on Twitter, where it has already been uploaded (thank goodness).
Yang Tae-Hwan was reportedly discovered on the talent show, Star King, where he also showed off his guitar playing skills, according to TIME. But there is no doubt that Yang Tae-Hwan played for the biggest audience of his life when people from all over the world tuned into the broadcast of the closing ceremony (how's that for exposure)?
There were plenty of reasons to tune into the closing ceremony for the 2018 Winter Olympics (all of which included saying goodbye to your favorite athletes becoming a staple on TV until the next four years). But no one expected to be blown away by a 13-year-old's skill on the guitar. Thankfully, Yang Tae-Hwan was there so people could discover him and subsequently be totally blown away by his performance.
Check out Romper's new video series, Romper's Doula Diaries:
Watch full episodes of Romper's Doula Diaries on Facebook Watch.