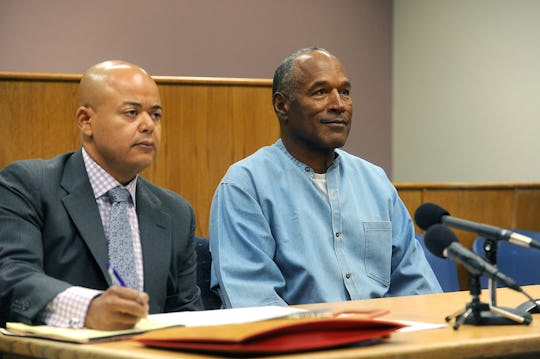 Pool/Getty Images News/Getty Images
Twitter Compared OJ Simpson To Donald Trump
On Thursday afternoon, a parole board voted unanimously to release O.J. "The Juice" Simpson from prison. According to ESPN, the 70-year-old former football player could be out of prison, where served time for armed robbery, as early as Oct. 1. His hearing was broadcast live, which lead to a series of tweets comparing O.J. Simpson to Donald Trump. The observations are pretty interesting, to say the least.
The embattled celebrity was convicted in 2008 for robbing two sports memorabilia dealers at gunpoint in a Las Vegas hotel room. According to CNN, Simpson claimed that he and his accomplices went to retrieve sports collectibles he said were stolen from him a decade prior. A jury found the former sports personality guilty of 12 counts of conspiracy to commit a crime, robbery, assault, and kidnapping with a deadly weapon.
At the time of Thursday's parole hearing, Simpson had served nine years of a maximum 33-year prison sentence for armed robbery and kidnapping, ESPN reported. The four-panel board in Carson City, Nevada took 30 minutes to deliberate before coming back with its decision. Of course, the news had people on social media on a roll. And they couldn't help compare The Juice to President Donald Trump, both of whom were once friends.
Simpson faced the Nevada Board of Parole Commissioners once before, in 2013. According to ESPN, the same four board members granted him parole on some of his charges, which shaved off years from when he would reach his minimum term. Simpson's original sentence at the Lovelock Correctional Facility was set to end at the end of September in 2022. He plans to live in Florida once he's released, ESPN reported.
According to BBC News, the ex-football star told the commissioners during his testimony on Thursday,
I've done my time. I've done it as well and as respectfully as anybody can. I think if you talk to the wardens they'll tell you. I've not complained for nine years. All I've done is try to be helpful… and that's the life I've tried to live because I want to get back to my kids and family.
Simpson's legal troubles first started in the 1994, when he was arrested for the murders of his ex-wife Nicole Brown Simpson and her friend Ron Goldman. He went on trial in 1995, but was acquitted and found not guilty. But, according to the Los Angeles Times, Simpson was ordered in 1997 to pay more than $33 million in their wrongful deaths.