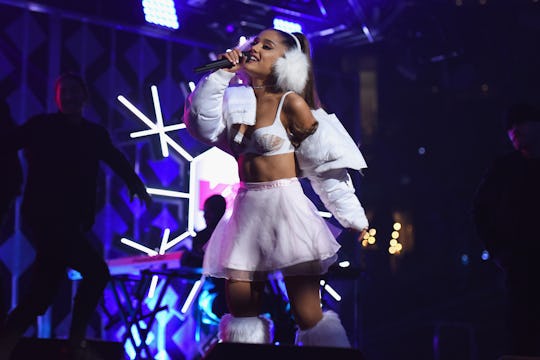 Dave Kotinsky/Getty Images Entertainment/Getty Images
Tweets From Ariana Grande's Concert Reveal A Panicked Scene
On Monday, an Ariana Grande concert turned frightening. An explosion reportedly rocked the Manchester Arena in the United Kingdom, with local police reporting fatalities and injuries. Tweets from Ariana Grande's concert revealed the confusion and panic fans experienced both inside the arena and out.
UPDATE: BBC reported at 11:40 a.m. local time Tuesday that 22 people have been confirmed dead and 59 injured in the Manchester Arena explosion.
UPDATE: In a statement early Tuesday morning local time, Manchester Police spokespersons said, "Just before 10.35pm on Monday 22 May 2017, police were called to reports of an explosion at Manchester Arena. So far 19 people have been confirmed dead, with around 50 others injured. This is currently being treated as a terrorist incident until police know otherwise."
In a separate tweet on Monday night, Grande wrote, "broken. from the bottom of my heart, i am so so sorry. i don't have words."
EARLIER: Although Grande is reportedly "okay," according to her representatives, that is sadly not the case for all the attendees who'd planned on a fun night of pop music. Manchester police said in a statement, "There are a number of confirmed fatalities and others injured." It was unclear, in the immediate aftermath, what exactly had happened. News outlets began reporting two explosions at the scene, with audience members telling MailOnline that, right after Grande left the stage, the sound of a huge explosion reverberated through the arena. Following that, one concertgoer said,
Suddenly everybody started screaming and running for the exit... There were thousands of people trying to get out at once. They were all screaming and crying. The whole place smelt smokey and burnt.
Videos and photos on Twitter captured the panic and chaos at the scene, as concertgoers fled the location of the reported explosions while emergency workers flocked to the arena to help. Manchester Arena is a popular concert venue that can hold up to 21,000. It is so far unclear how many were injured and killed in the explosions.
While those at the concert shared their videos and photos of the scene, others in the Manchester area quickly took to social media to offer help in any way they could, whether it be by providing places for people to sleep, giving free taxi rides to those in need, or spreading the word to worried families looking for their children.
Given Grande's fan base, many of the concertgoers were young, and attended the show without their guardians. Amid all the ensuing confusion, many parents had trouble getting in touch with their loved ones. People began tweeting pictures of their loved ones who they could not reach, asking for information on their whereabouts. According to various tweets, the local Holiday Inn took in over 50 children who had been at the concert without their families.
As police continued to investigate the scene, it was unclear whether the explosion was intentional, or what might have caused it. But many were quick to send their thoughts and prayers to all involved, and to the panicking families desperate for more information.
According to NBC News, at least 20 have been reported dead in this tragic event. Our thoughts are going out to all those affected.