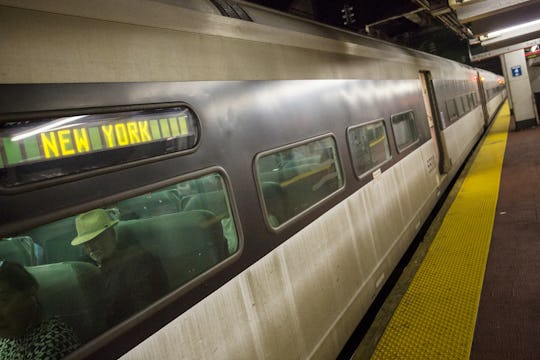 Andrew Burton/Getty Images News/Getty Images
Tweets From The Scene Of The New Jersey Train Crash Show Extensive Damage To Station
According to reports, a commuter train has crashed into the Hoboken, New Jersey, transit terminal. The number of injured is not immediately clear. But tweets from the scene of the New Jersey train crash show extensive damage to the Hoboken station.
According to the New York Daily News, reporters are saying there are multiple injuries, but no official number has been released. According to images being shared on Twitter, the station looks packed full of commuters. The NY Daily News said New Jersey Gov. Chris Christie's office did not have an immediate comment on the situation.
Fox News is reporting that more than 100 people have been injured at the Hoboken station, and at least one commuter was trapped under the rubble.
The train that struck the Hoboken station had just left the Secaucus station, according to NBC News. One of the passengers on the train, Bhagyesh Shah, told NBC that he was in the back of the second train car, standing, when the train rammed into some support pillars, causing the roof to collapse on the train. He added that passengers were breaking windows to escape. "It was for a couple seconds, but it felt like an eternity," Shah said. "I saw a woman pinned under the concrete. A lot of people were bleeding, one guy was crying."
WFAN anchor John Minko saw the crash, according to New York's CBS Local.
It simply did not stop. It went right through the barriers and into the reception area.
NBC New York is reporting that the crash appears to be an accident, rather than an intentional act, but officials add it's early and there's still much they don't know about the events leading up to the crash.
One hospital near the scene is the Jersey City Medical Center, which reported to NBC New York it sent several emergency and trauma units to the station.
The Federal Railroad Administration told NBC investigators were on the way to the scene to collect information and evidence to try and figure out what happened that would cause a train to careen into a station.
One passenger on the train, Leon Offengenden, told CNN he was behind the lead car during the train crash. "The front car is essentially off the rails ... into the building of the station, with the roof sort of collapsed around it," he said. "The lights went out and a few people screamed ... a man walked past me holding his arm. I saw some blood."
The Hoboken train station is currently shut down to passengers.
It's important that anyone driving around or near the station take alternate routes, as first responders need clear passage to deliver care to the many injured and those who are still trapped in the train cars.