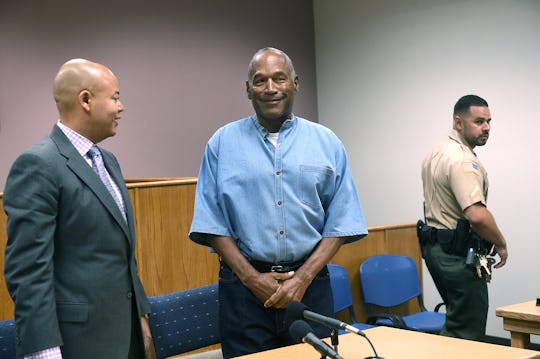 Pool/Getty Images News/Getty Images
The Best Reactions To OJ Simpson's Parole Decision
On Thursday, O.J. Simpson was granted parole after serving nine years in prison for an armed robbery committed in 2007. As soon as it was announced, the internet went wild with tweets and memes about O.J. Simpson's pending release in October. Simpson, 70 years old, was serving a 33 year sentence for armed robbery and kidnapping following events in a Las Vegas hotel room. He was sentenced in 2008.
The former NFL star told the Nevada parole board, "I've done my time. I've done it as well and as respectfully as I think anyone can." He still claimed that he was not fully responsible for the situation. Simpson pointed the blame his "associates," according to CNN. He said, "Unfortunately, they got a get-out-of-jail-free card when they said 'O.J. told me [to do it]. Nothing I can do about that."
Others spoke at his parole hearing, too. His eldest daughter, Arnelle Simpson, spoke on her father's behalf, saying that while her father didn't make the "best" decision on that night, he had done his time. She said:
No one really knows how much we have been through, this ordeal in the last nine years. We just want him to come home. This has been really, truly hard. ... I know that he is remorseful.
Twitter Was Ready To Plan O.J.'s Future
Others Were Torn About The Decision
One of the robbery victims, Bruce Fromong, spoke on Simpson's behalf. He said that he had forgiven him. "O.J. never held a gun on me. O.J. is my friend, always has been, and I hope will remain my friend," he said. Fromong added that he thinks Simpson was misled by others that day, saying:
He was led to believe that on that day, there were going to be thousands of pieces of his personal memorabilia, pictures of his wife from his first marriage, pictures of his kids. He was told there were going to be possibly his wife's wedding ring, thousands of things. He was misled about what was going to be there that day.
Simpson's testimony at the parole hearing mirrored that, as he claimed that he has not led a "criminal life," and that he had learned to lean on his Christian faith and anti-violence in prison. "I was always a good guy, but could have been a better Christian, and my commitment to change is to be a better Christian," Simpson said.
Most people best remember Simpson from his 1995 acquittal for the murders ex-wife Nicole Brown Simpson and her friend Ron Goldman in what was then known as the "trial of the century."
He will likely be released in October, but has no set plans yet about his future, except that he wants to spend time with his children. Hopefully, the family can find some peace after all of Simpson's legal troubles.