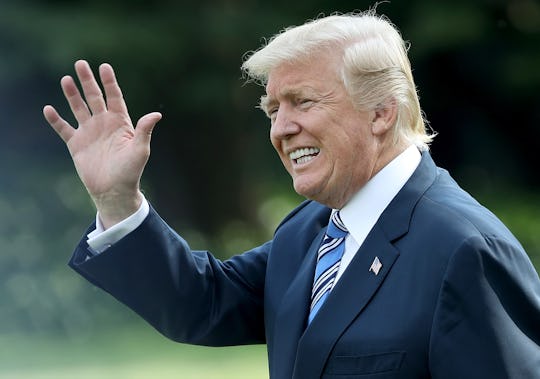 Win McNamee/Getty Images News/Getty Images
Tweets & Memes About Trump's "Local Milk People" Comment Are Hilarious
President Donald Trump isn't exactly known for his eloquence as a public speaker, and honestly, it's pretty much become a given at this point that much of what he says it going to be outrageous — or even straight up offensive. Sometimes though, Trump's verbal gaffes lead to some pretty hilarious results, and the latest one comes courtesy of leaked transcripts from a call the president had with Australian Prime Minister Malcolm Turnbull in January. Tweets and memes about Trump's odd "local milk people" show that it's the latest hilarious and confusing covfefe.
On Thursday, The Washington Post released transcripts from two phone calls the president had not long after his inauguration, and in a chat with the Australian PM on Jan. 28, the president spoke at length about ISIS, immigration, and why he's "the world's greatest person that does not want to let people into the country." But the two men didn't exactly see eye-to-eye when it came to resettling refugees currently held in Australian detention centers in the United States, and though Turnbull told Trump that the current deal between the two countries would still be in line with Trump's "extreme vetting" plan, the new POTUS wasn't so sure. In response, Trump told Turnbull that he "[hates] taking these people," and that "they are not going to be wonderful people who go on to work for the local milk people."
The idea behind his comment was pretty standard, anti-refugee Trump fare. But the confusing mental image of "local milk people" was something that quickly became a target for some good, old fashioned Twitter roasting.
First, there were those who weren't quite sure who he was even referring to (dairy farmers? 1950s milkmen?):
While others just found the term generally made the perfect punchline:
To some, the comment seemed particularly fitting given Trump's views on immigration:
While to others, it called into question Trump's one-time assertion that he "[knows] the best words":
Obviously there were covfefe tweets:
And then, there was this gem:
Not everyone saw the comment as being simple meme fodder though — some Twitter users wondered if Trump's verbal misstep could actually be a sign of something potentially serious:
Given that Trump's job is to represent the country on the world stage, it's more than a little frustrating when what often comes out of his mouth are words or phrases that don't make a ton of sense. And since those ideas also shape a lot of actual legislative policy, it's also pretty alarming.
Poking fun at the POTUS in 144 characters doesn't actually do much to change that reality, of course, but it does at least offer a bit of comic relief to balance it out. And honestly, given the concerning reality of actual news headlines lately, it seems like that's something we could all use a little bit more of in our lives.