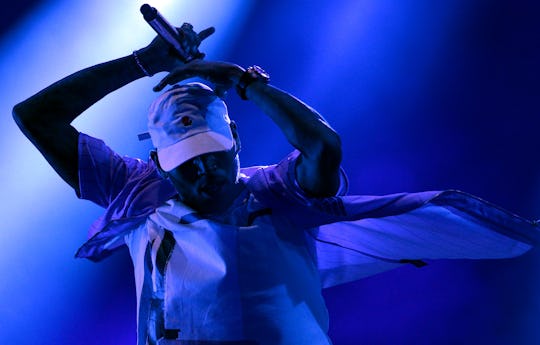 FADEL SENNA/AFP/Getty Images
Tweets Reacting To Chris Brown & The Alleged Incident At His House Are Frustrated & Fed Up
Early Tuesday morning TMZ broke a story regarding an incident at the home of R&B singer Chris Brown. A woman at Brown's home reportedly called 911 and claimed that Brown had pulled a gun on her, according to TMZ. Brown's representative, Kenneth Meiselas, did not immediately respond to Romper's request for comment. Police have reportedly been at Brown's residence since 3 a.m., engaged in a stand off with Brown, who has not yet left his apartment. After the story broke, social media lit up with responses. Tweets reacting to Chris Brown are pretty divided: is he guilty of another alleged assault? Considering his record, including pleading guilty to attacking then-girlfriend, Rhianna, back in 2009 (his probation was lifted in May 2015), many wonder if he'll be facing harsher punishment if the allegations prove to be true.
Currently, police are seeking a warrant for entry into Brown's residence on Corbin Avenue in Los Angeles. Several unnamed sources who spoke to TMZ say they have already obtained weapons and drugs from Brown's residence, which he allegedly dropped out of a window inside a duffle bag. The identity of the woman who called 911 has not yet been released, and the LAPD has given limited information to the press.
Throughout the stand off, which is still ongoing Brown took to social media, specifically his Instagram, to provide updates of the situation from inside his residence — and encourage his followers to download his latest album.
Tweets about the incident are really not surprised, and some are a bit frustrated that Brown has reportedly been involved in another incident like this.
Brown was born in Virginia in 1989 and rose to fame after his first single, "Run It!" peaked on the Billboard Hot 100 charts. In 2009, he pleaded guilty to felony assault charges after attacking his then-girlfriend, singer Rhianna. He received five years' probation and six months of community service. His probation was was lifted in May 2015.
It's unclear what really happened at Brown's house, but hopefully more will come out once the LAPD gains entry to the singer's home.