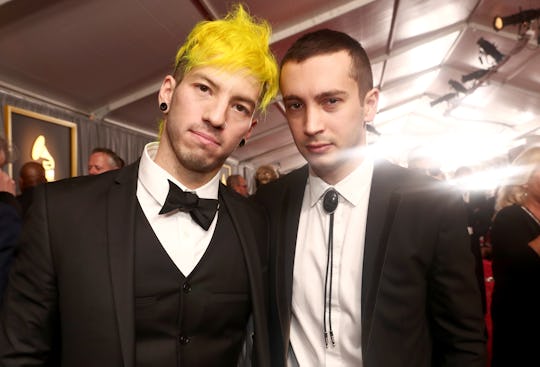 Christopher Polk/Getty Images Entertainment/Getty Images
Twenty One Pilots Accepted Their Grammy Pantless
When someone wins an award for something, you expect them to jump up and down, hug their loved ones, and take the stage. But in the case of Twenty One Pilots, they decided to do something very different. They opted to celebrate by taking some of their clothing off. That's right my friends — Twenty One Pilots took their pants off at the 2017 Grammys, but before you start judging their behavior, the reasoning behind it is actually pretty sweet, believe it or not.
Upon collecting the award (sans pants, of course), they recalled how a few years ago they were back in Columbus, Ohio getting ready to watch the Grammy Awards with a couple of roommates. While watching, they then noticed that every single one of them was in their underwear during their little viewing party session. That's when Josh said, "If we ever win a Grammy, we should receive it just like this." And that's exactly what they ended up doing. True to their word, Twenty One Pilots dropped trou almost immediately upon hearing their name called and then proceeded to make their way to the stage for their acceptance speech. And honestly, I kind of respect them all the more because of it.
It's easy to go ahead and make a promise like that in the past, but it takes true courage to follow through on it when the day actually arrives for you to make good on your word, especially when it involves being pantless in such a public setting. And yet, there they were, making sure they weren't letting the fame of it all go to their heads. Normally, if you're nervous while giving a speech, you're supposed to picture the crowd in their underwear. This is a direct role reversal of that concept, but I appreciate the sentiment behind it.
I've always been a fan of Twenty One Pilots before now, but this just really puts my love for them over the top. I mean, how many people have ever accepted an award without wearing pants? This will definitely make their speech a standout one to remember. And thankfully, this is all taking place in Los Angeles, so they didn't have to worry about being cold or anything, so there's that. Congrats to them on the award and for standing by the promise they made years ago. Their younger selves are undoubtedly very proud.