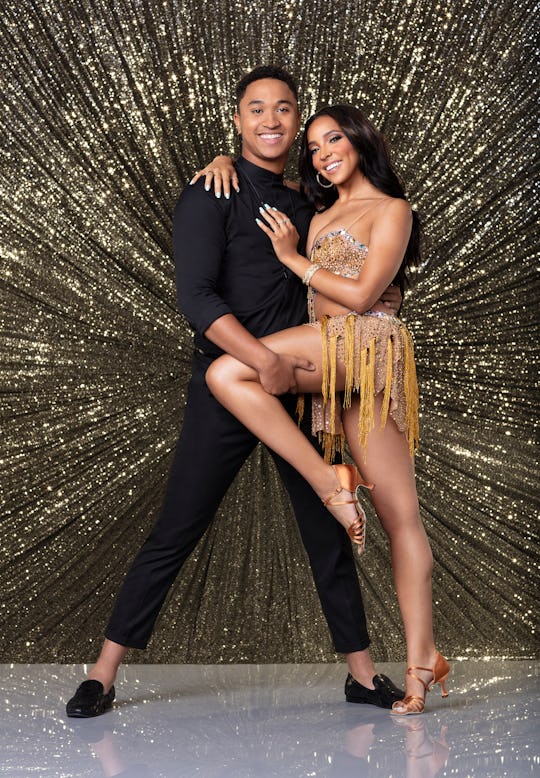 ABC/Craig Sjodin
Tinashe May Have Broken Twitter With This 'DWTS' Dance
If you've had your eyeballs glued to the TV, you know Dancing With the Stars is on fire. Seriously. Competition is fierce but there's one contestant ready to take home the Mirrorball trophy STAT. Twitter can't stop talking about Tinashe's Argentine Tango on DWTS and who can blame them? The singer, songwriter, and yes — dancer — may have a leg up on others like, say, Grocery Store Joe, but she's proving she may have what it takes to go all the way with pro partner (and total pro newb), Brandon Armstrong.
Though the 25-year-old Joyride singer is already known for her killer moves, the competition is still challenging for all involved. Last week on the Season 27 premiere, the pair danced the jive to Meghan Trainor's "I'm a Lady" and walked away with a tie for top score with 23 out of possible 30 alongside football player, Demarcus Ware and pro Lindsay Arnold. With this week's total futuristic vibe to "New Dorp. New York" by SBTRKT feat. Ezra Koenig," judge Bruno Tonioli said the routine was like "Barbarella landing in the hippest, coolest, New York high tech club" and I'm not sure if that's supposed to be a compliment so I'll just go with it. Regardless, it may be too soon to call it, but Twitter already has.
Though judge Len Goodman didn't think the dance had enough tango in it (um, what?), viewers vehemently disagree. And it was just last week when Goodman praised the "snap, crackle, and pop" in Tinashe's first routine garnering her one of those tops spots. Basically, the judges are great — albeit finicky and sometimes nitpicky — but the fans are where it's at. They know a solid Argentine Tango when they see it and by golly, Tinashe and Brandon did it.
As an Aquarius myself, I approve this message. If it's only week two and Tinashe's bringing the heat with finale-esque dancing, what's in store the rest of the season? For all I know, it could be literal flames and fireworks and it will be awesome.
With as much as judge Carrie Ann Inaba's been talking about lifts, Tinashe seemed to fare pretty well (where as Grocery Store Joe and pro partner, Jenna Johnson didn't).
I always scream when Tinashe performs, too, but I thought it was just me?
Early guesses have Tinashe going to the final rounds this season but only time will tell. With her extensive experience singing and dancing, she's clearly a natural (and seriously talented) performer. If she holds up over the next few weeks, who will make it to the finals with her? If last week's elimination means anything, it's that fan votes matter a lot and literally anything can happen.
Literally same.
If Tinashe's "thing" is to perform a kick-butt routine, break the internet, and basically show everyone how this dancing business is done, then yeah — keep on, keepin' on, girl. Whether it's the Argetine Tango or the Jive, she's got this and she's ready to show you all.