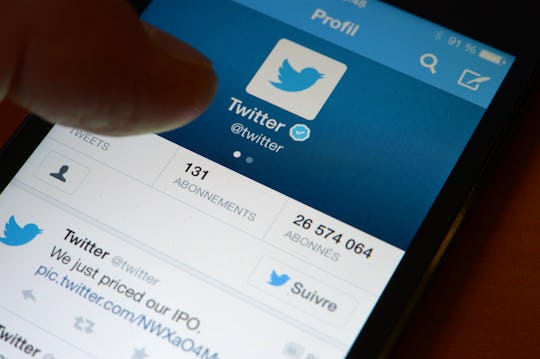 DAMIEN MEYER/AFP/Getty Images
Twitter Debuts Stickers For Photos & People Are Freaking Out
You might not be able to write more than 140 characters on your tweets, but now you can add a little extra pizzazz on your next thoughtfully-crafted message. On Monday, Twitter debuted a new stickers feature for photos and people are completely freaking out. So, if that family picture just seems too boring to put up on your feed, don't worry because the company launched hundreds of virtual stickers that will add that little extra something your next post and make everyone want to #FF you immediately.
"Soon, you can browse our rotating sets of stickers to join in on real-time conversations, and select from the library of hundreds of accessories, emoji, and props to make your photos more fun," Twitter wrote in an announcement on Monday to introduce the new #Stickers feature. "Use them to share what you're doing or how you're feeling, to show support for a cause, or to just add some flair."
The sticker feature will feel very similar to adding a sticker to a post on Snapchat. You'll be able to rotate and resize them, place them wherever you'd like on a photo and use as many colorful words, face, or objects as you'd like to make your photo a little more fun.
Another neat feature is that each sticker acts as an additional hashtag to your tweet. It'll work the same as when you search for a specific hashtag by tapping on a sticker and Twitter will display other photos that have been recently tagged with that sticker.
The company is actively creating a collection of stickers that are pegged to the time of the year and specific events, so the hashtag/search function might come in a handy for celebrating specific events like graduations or weddings or to show support for a cause.
Back in March, Twitter was exploring ways to appeal to the mass market and it looks like adding a sticker feature was what they were working on to allow users to be more expressive.
The sticker feature for your photos will be completely available to iOS and Android users within the next few weeks and people are already excited for the update.
It was about time Twitter got on board with stickers. They have proven to be a hit on other social media platforms like Snapchat and Facebook Messenger. The unique hashtag search function makes the update more interactive for users than just stamping some hearts on top of a cute kitty's eyes or a hard hat on an adorable elephant.
It's not like we needed words anymore anyway, right?