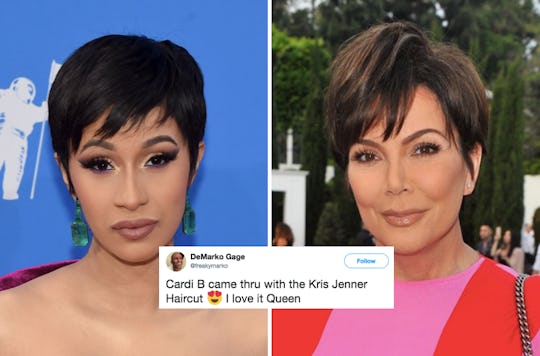 Mike Coppola/Getty Images Entertainment/Getty Images / Jerod Harris/Getty Images Entertainment/Getty Images
Twitter Is Comparing Cardi B's Haircut At The VMAs To Kris Jenner & Honestly, It's Perfection
Cardi B's appearance on the red carpet at the 2018 MTV Video Music Awards marked the first time that fans had seen the rapper in a while. Cardi B took some time away from the spotlight before she gave birth to her baby girl, Kulture, in July. But Cardi B's first appearance since giving birth did not disappoint — fans were in awe of her new look and, specifically, her new hairstyle. And the best thing is, Twitter is comparing Cardi B's haircut to Kris Jenner at the 2018 VMAs and honestly, it's so perfect for more than the obvious reasons.
Cardi B debuted her new look on the red carpet on Monday night before she was set to open the show and Cardi B looked absolutely stunning in her purple dress with a plunging neckline and high slit, as People detailed, and she oozed confidence. But fans on Twitter were more taken with the fact that Cardi B's new haircut reminded them of another powerful and confident mama — Kris Jenner.
Yup, people took to Twitter to compare the two women and their reactions to Cardi B's new look could not be any funnier and more spot-on.
People can not get over Cardi B's new hairstyle, which seems super perfect for a new mom — it's short enough that her daughter can't pull it and it won't get in the way of all of the diapers she is changing. It's the perfect new mom hairdo.
But these Twitter users do have a point. It's not insulting at all for them to refer to Cardi B as Kris Jenner — in fact, it's a compliment, considering how powerful Jenner is. Let's be real, the similarities between Jenner and Cardi B don't just stop at the hair.
They seem to be close friends. Earlier this month, Cardi B hung out with Kim Kardashian and Jenner at Kardashian's home in Hidden Hills, California, according to People. Needless to say, Cardi B was pretty excited about it. Cardi B joked that by hanging out with the mother-daughter duo, she was part of the "rich people club," according to People. She even joked that she was going to sell one of Jenner's used napkins (and Jenner replied back that she wanted 10 percent of the sale) — spoken like a true boss.
And in June, one month before Cardi B gave birth to her daughter, Kulture, Jenner even volunteered to be her midwife in an Instagram comment on one of Cardi B's posts, according to People. "Wait, can I be the midwife??" Jenner commented. "Just thinking this through...." Clearly they are both fans of each other.
In addition to being big fans, they are also super powerful moms in their own way. People know Jenner as the super powerful momager, who manages the very successful careers of her daughters and son, according to E! News. Although Jenner might be a little older and have a little more experience when it comes to raising her six kids, Cardi B has been figuring out motherhood for herself after giving birth to her daughter this July. In an Instagram Live broadcast last month, Cardi B said that she wanted to raise her daughter herself without hiring help. "I want to learn to be a mom," Cardi B said, according to People. "I want to enjoy every single second of it before going back to work."
Not to mention, the both of them are just major bosses — while Jenner dominates reality TV and her children's careers, Cardi B is currently dominating the charts. Because of this, it's a huge compliment for the both of them to be compared to one another.
Honestly, Cardi B's new look as a mom of one is both fierce and fabulous.