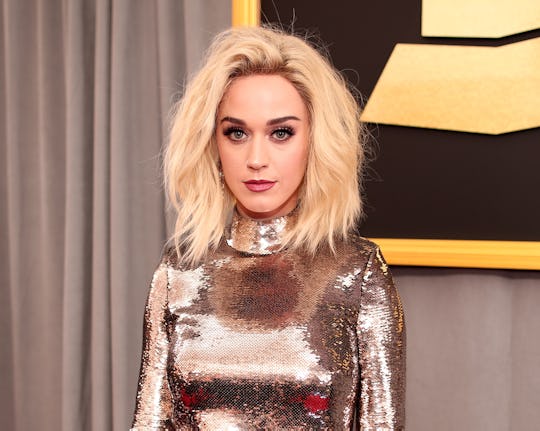 Christopher Polk/Getty Images Entertainment/Getty Images
Twitter Is Mean To Katy Perry During The Grammys
Democratic as the red carpet hosts try to be, the internet is definitely not as forgiving, at least, as far as fashion is concerned. The fact that Twitter was mean to Katy Perry during the Grammys isn't all that surprising, then, even if some of the comments are pretty uncalled for. But still, Perry, being the confident superstar that she is, isn't letting any of it affect her confidence. She tweeted her "Grammy LEWK" out with pride, along with a photo that featured her very own Katy Kat CoverGirl collection.
Perry's grown a lot as an artist since she broke out in 2008 with "I Kissed A Girl." The self-defined "activist" shared with red carpet host Ryan Seacrest that, in recording her newest music, she was sure to preach inclusivity over divisiveness, insisting that, by and large, "we just need to listen to each other."
She also shared a little more insight as to the reasoning behind her recent hiatus from music. "It's called taking care of your mental health," she told Seacrest, adding "and I haven't shaved my head yet!" Many on Twitter were offended by this allusion to fellow pop star Britney Spears' mental health issues, suggesting that Perry's dress wasn't the only distasteful thing about her appearance.
Jamie Mizrahi styled Perry in a Tom Ford gown, half made of sequins, half of feathers, and completely doused in a champagne hue. The look was meant to be a departure from Perry's norm. "There was less thinking about what had been done in the past and more thinking about the present and future. We wanted something that felt different and elevated," Mizrahi shared. Paired with her new, voluminous and platinum locks, many still thought that Perry's look was reaching.
See all the shade for yourself:
Naturally, though, others managed to come to her defense:
Mizrahi defended the look even further, telling Billboard:
It's interesting and bold. The mix of feathers and sequins paired with the silhouette of the elongated turtleneck top is unexpected and cool. The look is powerful and playful at the same time — just like the woman wearing it.
Knowing Perry, she won't let the haters faze her. She's remained resilient through so much that crude comments about a gown won't keep her down. Besides, she's got plenty of other, more important things to focus on, like her mental health, her activism, and the new album fans definitely can't wait for.