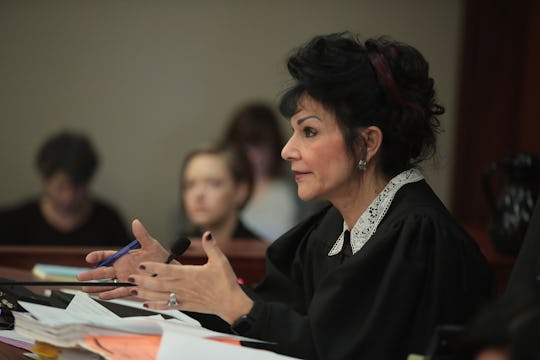 Scott Olson/Getty Images News/Getty Images
Twitter Is Rallying Around Judge Rosemarie Aquilina For Giving Larry Nassar's Victims A Voice
Larry Nassar, the USA Gymnastics doctor accused of sexually assaulting gymnasts over the course of two decades, was sentenced to 40 to 175 years in prison on Wednesday. His crimes were heinous and his impact severe, but out of all the trauma he caused, there's one bright spot in the whole mess: The judge who empowered 150 victims to read impact statements and served up justice in the case. Now, Twitter is rallying around Judge Rosemarie Aquilina for her approach to the Larry Nassar hearings, and it's really well deserved.
Nassar was already sentenced to up to 60 years in prison for separate child pornography charges. By pleading guilty to sexual abusing seven girls, he faced a minimum 25 to 40 years in prison, according to the New York Times. He still faces sentencing in three other counts in Eaton County, Michigan.
Aquilina, a true American hero, could have given him a longer sentence than the minimum he agreed to, but, according to NBC News, that would have given Nassar the option of withdrawing his guilty plea and going to trial.
"I just signed your death warrant," Aquilina said as she read her sentence.
Twitter Was Rightfully Impressed With Her Work
It wasn't just her sentencing approach that had Twitter falling over it itself to praise the Lansing, Michigan judge. It was also the way she empowered Nassar's victims over the past week or so, allowing 150 women to come forward and give a statement about their abuse, trauma, and healing. She really ignited a movement. At first, there were only about 88 women who were planning on coming forward. By the end of last week, that number became 120, then 150 right before he was sentenced.
Those statements are a testament to what "strength in numbers" actually means. Their statements were devastating, but that they were able to represent themselves and be heard was a pretty beautiful thing. Aquilina didn't have to make room for each one, respond individually, or brazenly show her disgust for the defendant. But everyone should be glad that she did.
Most of the women who came forward later in the week, including captain of the 2012 and 2016 U.S. Women's Gymnastics "Fierce Five," Aly Raisman, said that they were moved to come forward and speak up after watching other survivors do it. Each one of those women were brave for coming forward. But Aquilina created a safe space in her court room for them to come forward and share with the court.
After each woman spoke, Aquilina would tell them that they were "worthy" or that they deserved to heal, and that she was, in fact, listening to them and planning on making sure that Nassar was punished to the full extent of the law.
Last week, Nassar submitted a letter to the judge complaining that he wasn't mentally prepared to listen to so many of his victims. He added that he felt the judge and the victims were hungry for media attention. Aquilina read parts of the letter and told him that he would sit there for as long as there were victims ready to speak, adding that four or five days of impact statements was "significantly minor considering the hours of pleasure [he] had at their expense and ruining their lives."
By Wednesday, his tone had changed, as he read a letter apologizing to his victims before the judge handed down his sentence. "There are no words that can describe the depth and breadth of how sorry I am for what has occurred. An acceptable apology to all of you is impossible to write and convey. I will carry your words with me for the rest of my day," he read, according to the Washington Post.
Aquilina remained unmoved. She read again from the letter he sent the week before insisting that he was a "good doctor" before she tossed it across her desk like a boss. She said, "I wouldn't send my dogs to you, sir." The judge added, "As much as it was my honor and privilege to hear the sister survivors, it is my honor and privilege to sentence you. Because, sir, you do not deserve to walk outside of a prison ever again."
Aquiina sent a clear message to everyone — not just Nasser's victims — that men taking advantage of their power and abusing women is completely unacceptable. That seems obvious to some people, maybe, but given the breadth of the #MeToo movement, our culture still has a lot of learning to do.
With more judges like Aquilina to empower victims everywhere, hopefully that will change.