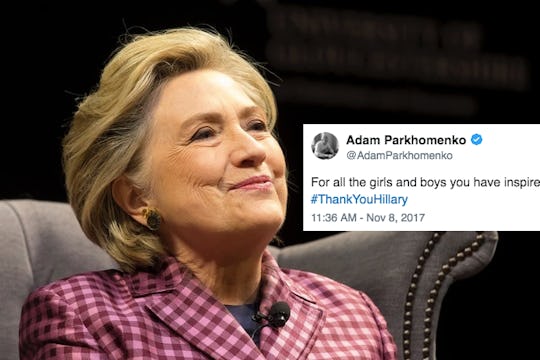 Matthew Horwood/Getty Images News/Getty Images/ @AdamParkhomenko/ Twitter
Twitter Is Thanking Hillary Clinton For Inspiring Women & Children To Keep Fighting
It's been exactly one year since Donald Trump was elected as the 45th President of the United States of America. On this day, millions of hearts were broken when Trump came away with the victory and Democratic presidential nominee Hillary Clinton emerged as — as Trump might say — the "loser." But in the year since the election, a lot has been learned from the successes and failures of the candidates — including the positive influence one candidate had on so many. In an act of complete kindness, Twitter is thanking Clinton for highlighting the influence women in politics have on children and it's so inspiring.
Using the hashtag, #ThankYouHillary, Twitter users came together on Wednesday to express their gratitude for the former presidential candidate and woman who continued to break political barriers, even before she ran for president. People had a lot to thank Clinton for — ranging from her influence on motivating women to run for office to inspiring others to stand up for what they believe in — throughout her more than 50-year career advocating for the rights of others.
But the most poignant tweets came from those who were speaking about the future and the nation's future generations. These tweets, from various users, show that Clinton's successes and ultimate defeat has paved the way and will continue to do so for years to come.
These words of gratitude in relation to children and their parents should not come as a surprise. After all, as previously stated, even before she ran for president Clinton has been an advocate for women and children since the late 1970s, according to HuffPost, when she joined the Children's Defense Fund and became an advocate for protecting children against child abuse. Her advocacy for children even continued when she became First Lady, fighting to help pass the Children's Health Insurance Program. Even if she had not lost to Trump, people would still be thanking Clinton for setting such an empowering example for women and their children.
The influence of women in politics, like Clinton herself, has proven to be highly beneficial for everyone including their children. Women leaders, according to CNN, typically have more compassion and empathy for their constituents and invest more money into families. According to The Nation, "ethnically diverse and divided nations" that elected women over men to key leadership roles were more likely to have a better economic performance in their nation.
But Clinton's influence on the nation — both now and in the future — is kind of mind blowing. As a result of Trump's election, more mothers of young kids (and women in general) are running for office, according to The Washington Post, working to fight for their children's futures. Data from non-partisan organization, She Should Run, found that 13,000 women were interested in running for office after the election, according to HuffPost. Those numbers alone show that women are not going to sit back and let certain men decide their future and their kids' futures.
And the results of these women running have proven to be fruitful. During the 2017 election just last night, women were victorious. States elected women into office and women turned out in droves to vote, according to Refinery 29. This shows how much hope and determination people have for the future right now.
If the 2016 Presidential Election taught parents anything, it's that children are paying attention to what politicians are saying. In 2016, according to Rolling Stone, the Southern Poverty Law Center found that there had been an increase of bullying in schools towards vulnerable groups that Trump had been targeting during his campaign — and some children were even using Trump's name as a "threatening taunt" towards other children. All the more reason why women in politics have a positive impact on children.
Although Trump's presidency has not been easy to cope with, his victory and Clinton's loss has paved the way to inspire so many women and their children to fight for a better future. Hillary Clinton was only the beginning of this.
Watch Romper's new video series, Romper's Doula Diaries:
Check out the entire Romper's Doula Diaries series and other videos on Facebook and the Bustle app across Apple TV, Roku, and Amazon Fire TV.