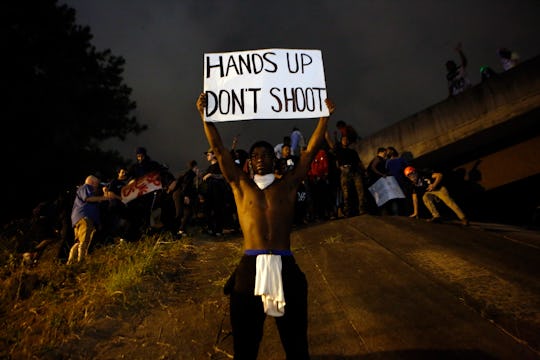 Brian Blanco/Getty Images News/Getty Images
Twitter Reactions To Alfred Olango's Death Show Americans Are Outraged & Heartbroken
On Wednesday morning, 30-year-old El Cajon, California, man Alfred Olango's name was trending on Twitter for the worst possible reason: he was killed Tuesday afternoon after being shot by police, despite being unarmed. While early reports claimed he was shot while having a seizure, further details — including comments made by a woman identifying herself as Olango's sister, Sarah, and a statement by the El Cajon Police Department — suggest that Olango was suffering from a mental illness, and that Sarah called police for help after he was acting "erratically" and "not like himself." Twitter reactions to Alfred Olango's death show that Americans are outraged, heartbroken, and totally fed up with yet another story of an unarmed black man being killed by police, particularly one who had reportedly been in need of psychiatric help. Olango was both Tased and fatally shot simultaneously, according to police, after allegedly pulling an object from his pocket and assuming "what appeared to be a shooting stance." According to The Guardian, El Cajon Police Chief Jeff Davis later confirmed the object was not a weapon.
Following the shooting, protesters gathered to chant "black lives matter," and "hands up, don't shoot," angry about what they felt was another example of unwarranted police violence against African-American men. Just this month alone, 40-year-old Tulsa, Oklahoma man Terence Crutcher was fatally shot on Sept. 16, despite being unarmed with his hands in the air, according to CNN, and recently released footage of 43-year-old Charlotte, North Carolina, man Keith Lamont Scott showed that his hands were at his sides when he was shot four times by police four days later on Sept. 20, according to The Atlantic .
Unsurprisingly, many of the tweets following the reports of Olango's death focused on how devastating and infuriating it feels to wake up and see his name as a hashtag:
Others have commented on the fact that Olango's mental illness was known to officers, and that anyone calling 911 for help shouldn't have to worry their loved one could be shot and killed. But as a black man with a mental illness, Olango would have been at an even higher risk for being shot by police: according to NBC News, nearly half of all people killed by police have some kind of disability, and experts note that those with psychiatric disabilities specifically are often expected by police to be "dangerous to themselves and others."
Following Olango's death, a Facebook Live video taken by a witness showed his sister telling police, "I called you to help me but you killed my brother," and "Why couldn't you guys Tase him? Why why why why?" according to The Daily Mail:
Given that Olango was unarmed, many Twitter users are wondering why it was necessary that police officers used lethal force, given that others who were actually armed and trying to kill people were able to be apprehended alive.
While others have questioned why it was so difficult for police to determine whether or not Olango was armed in the first place:
In the wake of Alfred Olango's death, Twitter is full of anger and sadness and frustration over what appears to be the unnecessary use of lethal force against an unarmed man who needed medical help. What's more is that Olango's death serves as yet another reminder that, for black Americans, the threat of police violence — even when calling 911 for help with a loved one — is real, and very scary.