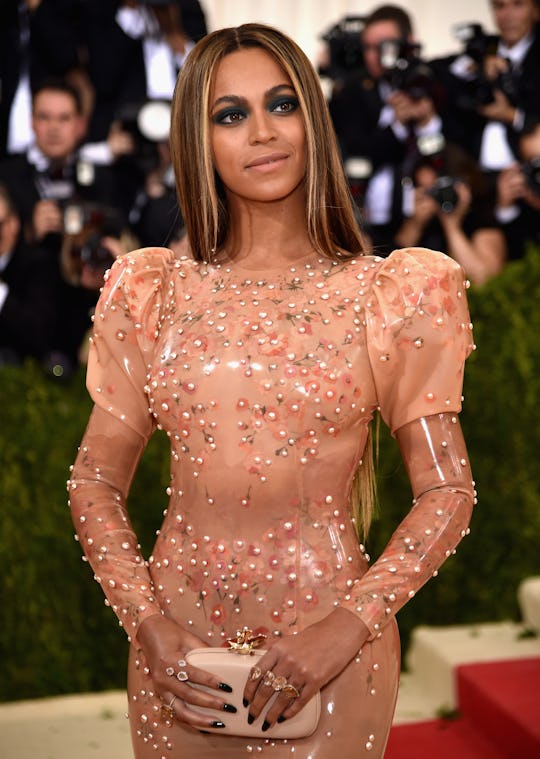 Dimitrios Kambouris/Getty Images Entertainment/Getty Images
Beyoncé Skips The Met Gala, Dashes All Our Dreams
Babymooning on an island just weeks ago, it seems that Beyoncé and Jay Z have been enjoying the last bit of calm before their family of three becomes a family of five. Fans were wondering, then, if they'd suit (and gown) up for fashion's biggest night, the annual Costume Institute Gala. Sadly, the two were missing, and plenty of people noticed. Twitter reactions to Beyoncé skipping the Met Gala on Monday night proved that her fans were seriously sweating her absence and feeling a bit slighted, to say the least. All they wanted was a pregnant goddess in a life-altering gown, and tonight, their needs went unmet.
To be fair, we all could have seen this coming. In the weeks leading up to the event, there was plenty of speculation as to whether or not the couple would opt to attend at all. I mean, Beyoncé skipped her Coachella performance this year, deciding to relax in Bora Bora with Jay Z instead of singing in the California heat. But who could blame her? In February, it was announced that Bey had been advised to by her doctors to "keep a less rigorous schedule in the coming months," so her attendance at the gala was definitely up in the air.
But as the event got even closer, she definitely appeared to be red-carpet ready. Beyoncé's red gown and flower crown Instagrams shook social media the day before the Met Gala, giving major Beyoncé 2017 pregnancy announcement photoshoot vibes. Attending her mother's inaugural Wearable Art Gala at the California African American Museum in Los Angeles, Beyoncé stunned in a sleeved, Stephanie Costello for Stello gown with matching, sky-high floral headpiece, with many wondering if she'd replicate the look on Monday.
Despite all the signs, fans still got their hopes up, and, as you'll see below, those hopes were dashed:
Needless to say, there was much anticipation as to whether or not Bey and Jay would grace us with their presence, as well as excitement over their potential outfits. Nude, orb-covered latex, see-through black lace and blue feathers, an entire gown solely composed of beige netting and sparkles — Beyoncé's Met Gala looks have been nothing short of iconic, and this year fans were looking for more of the same.
But again, are we really surprised? Just yesterday, Beyoncé and Jay Z enjoyed a day-date at the Clippers game in Los Angeles (note: not New York City), just the two of them. As they sat court side, Jay was seen smiling at his wife, and rubbing her belly. Beyoncé's due date is sometime in the early summer, so the couple is truly taking a breath and keeping it low-key. As a star pregnant with twins, an afternoon basketball game definitely seems more appealing then a high-fashion affair.