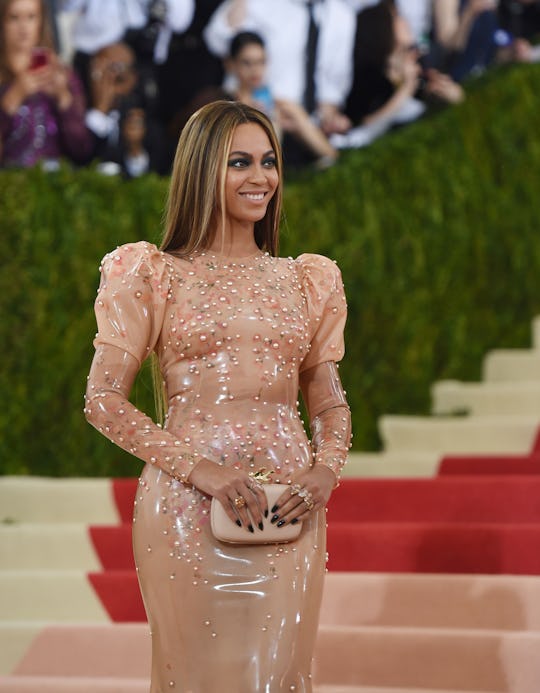 TIMOTHY A. CLARY/AFP/Getty Images
Twitter Reactions To Beyonce's Met Gala Dress Were Unsurprisingly Split
On Monday night, the main focus at the Met Gala in New York City was, of course, Beyoncé, who showed up and slayed us all with her demurely edgy look. The performer, who apparently took a night off from her Formation tour, showed up without husband Jay Z in tow (scandalous!) wearing a Givenchy dress made out of peach colored latex and studded with pearls, topped off by Queen Bey's characteristically shiny, sleek mane of hair (beautiful as always). But given all the hype and controversy surrounding Beyoncé's latest album, Lemonade, Twitter reactions to Beyoncé's 2016 Met Gala dress were mixed, at best. Not that anyone would have predicted otherwise.
Some fans were stoked to see Bey at all, given her very busy Formation World Tour schedule of late. Others likened her look to "rubber chicken" at best and skin infections at the very worst. Alright, the STD comparisons were the worst, if I really have to say it.
If she weren't Beyoncé, one might feel bad for her. But she was rocking that latex like nobody's business despite the mixed bag of reactions. Some fans were even proud of the fact that she effectively stuck to the exhibition's theme of "Manus x Machina: Fashion in an Age of Technology." (Bey was, of course, channeling the "Manus" part of the theme.)
Still, one had to wonder: Did the lackluster response to her dress might have anything to do with the hype surrounding her visual album release and the kick-off to her Formation tour? What did anyone really expect? Was she supposed to show up in a lemon-colored dress with a diamond encrusted baseball bat? Fans had all sorts of opinions:
Overall, reactions from the fashion police were very, very mixed from the minute Beyoncé previewed her look on Instagram about an hour before she made her grand entrance:
And the opinions didn't stop there either.
The Queen Slays No Matter What
How Did She Get In That Thing?
Is She Wearing Her Pain?
And Is It Becky?
Flat-Out Impressed
The Met Gala is every celeb's chance to show off and Beyoncé has always (always) come with some super strong looks. Monday night's dress might not have been everyone's favorite, but it was still a look to be remembered — which is sort of the point. More than that, Beyoncé just walked a red carpet alone after releasing an album and dealing with everyone's two-cents about her marriage for the past week. She's been killing it on tour since Wednesday and just bared her soul with an intimate new album to the entire world. Also, the Met Gala in 2014 has been much discussed in the media since the release of her album (due to a prior breakdown at the event between her husband and sister over an alleged infidelity on her husband's part) — and it's not easy to show up to the scene of an supposed crime that could bring back bad memories.
If Beyoncé's eye makeup or dress wasn't to your liking, maybe it's fair to give her a pass this time around. Put them deuces up, Bey.