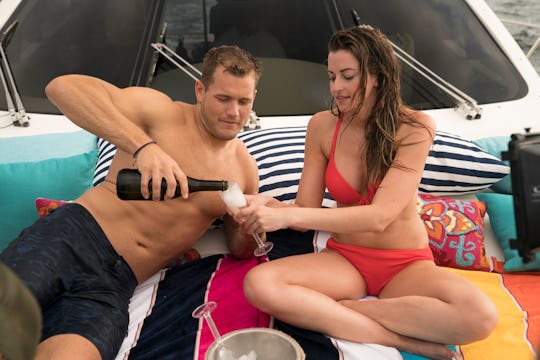 Paul Hebert/ABC
Lots Of 'Bachelor In Paradise' Fans On Twitter Still Support Colton
Colton and Tia had the potential to be the "it" couple of Bachelor in Paradise this season, but when it all comes down to it, it may not be that simple for the pair. Yes, they had a prior relationship outside of the show and yes, Tia came to Paradise in the hopes of seeing him, but there may be more dedication on her side rather than Colton's. And that's totally OK. In fact, Twitter reactions to Colton on Bachelor in Paradise prove that he still has fans on his side.
On BIP, Colton told Tia that he wants to explore other options in Paradise. Later, he admitted to some of the guys that he never got that closure he needed with Becca. Put that together, and some fans weren't too happy with what seemed like Colton playing games with Tia's feelings. And when Becca showed up on BIP, things got even messier. Colton took the surprise appearance hard and after melting down on the beach a little bit, he went up to his room to regroup.
Colton isn't necessarily a cut and dry bad guy in this scenario. Could he have handled his first interaction with Tia this season a little better? Yes, of course. But did he lead her on thus far? That's definitely debatable. You could argue that taking Tia out on a date with his first date card gave her the idea that Colton is on BIP for her, but to his credit, he didn't say as much. And when she pressed him to figure out where they stand and what his intentions are, he was completely honest with her.
On the flip side, Tia hasn't done anything wrong either. The only thing she's guilty of is being open and honest about her feelings for Colton as soon as she had the chance to be. There doesn't have to be a "bad guy" in this scenario. Some thought Colton was leading Tia on, while others simply thought he was following his feelings.
Whatever the outcome is this season for Tia and Colton as a couple or individually, it doesn't look like he regrets the experience as a whole now. "I know there's a lot of questions [fans] had," Colton recently told Hollywood Life. "Maybe some people were questioning the timeline, intentions, whatever it is. That will all be answered this season, and that's the best part about Paradise." Perhaps this means that Tia and Colton settle things once and for all.
While some Bachelor Nation fans might be quick to call Colton the new Dean Unglert, he hasn't technically entered into a love triangle just yet. He just had to let Tia down.
Even when Colton was on The Bachelorette and falling for Becca, Tia knew what was going on. He never lied to her ahead of the show and he even said on Ben and Ashley I Almost Famous Podcast, that Tia had encouraged him to go on The Bachelorette if given the opportunity. It's easy to villainize one half of a couple that hasn't quite worked out, but it's really not that simple here.
All we can do now is hope that Tia and Colton can move on individually and that Colton can figure out what he really wants from BIP this season. But can we all agree that neither of them is the villain here and that maybe, just maybe, they'll be able to work it out as two adults?