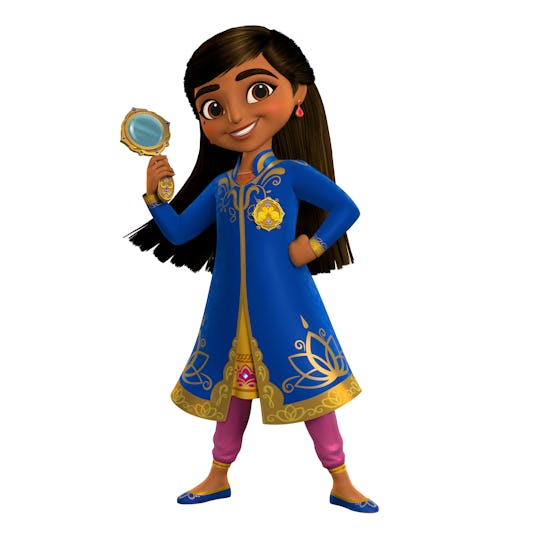 Disney/ABC
Disney's 'Mira Royal Detective' Is Going To Do Great Things For Representation
Get ready for a new Disney character that's bringing strength, fun, and representation. On Thurs. Nov. 29, the media giant's channel for the youngest tots announced a shiny new series starring a young girl named Mira, who solves mysteries in her native Jalpur (which the press release notes is "Indian-inspired"). Following the announcement, Twitter reactions to Disney's Mira, Royal Detective are overwhelmingly positive, proving that this is the kind of show parents want their kids to be watching.
The bad news is that, unfortunately, the show isn't set to premiere until 2020. But the really, really good news? It features an all South Asian cast. Mira is voiced by Leela Ladnier, a 15-year-old relative newcomer to the biz. And she's surrounded by a cast of accomplished actors who are clearly thrilled to be a part of such a great project.
One of the first to chime in on Twitter is none other than The Good Place's Jameela Jamil, whose recent criticism of celebrity- endorsed diet teas has earned her a bit of extra attention. Jamil took to Twitter to excitedly announce that she'll be contributing her voice to the series as Mira's Auntie Pushpa. And her fans were quick to respond positively, noting the need for more diversity and more strong girl characters on the network.
Amidst big names like Hannah Simone (Cece on New Girl), Freida Pinto (Slumdog Millionaire, The Path on Hulu), and Kal Penn (Harold and Kumar Go to White Castle, How I Met Your Mother), is another newcomer, Rosni Edwards, who will voice Mira's cousin, Priya. Edwards took to her own Twitter account to share the news, noting what a "breath of fresh air" it is to see this cultural representation.
When making the announcement, senior vice president of Original Programming for Disney Junior Joe D'Ambrosia touched upon the importance of such representation on TV, saying, "We are eager to introduce kids and their families to the rich, diverse cultures and customs of India through Mira, a young girl who looks at things with her own unique lens to gain different perspectives and help others in her community. We hope that she will encourage our audience to actively engage with the inspiring world around them and appreciate the little details that make life extraordinary."
For many parents, especially those of South Asian descent, this is a big deal. But even those without kids can see the benefits. The shows we had growing up weren't exactly steeped in positive representation; even the more "progressive" popular series like The Rugrats and Kim Possible were prone to featuring only one or two characters of color. And don't forget the common Disney perpetuated trope of the girl who needs a prince.
But we've definitely seen how representation has definitely become more of a priority lately for Disney and its competing networks. The success of Doc McStuffins has certainly proven that a white protagonist isn't necessary for success, and the immense popularity of Nickelodeon's Dora the Explorer shows that cultural diversity on TV is a very good thing. Now you just have to wait until 2020 to get this new chapter in positive female role models of color.