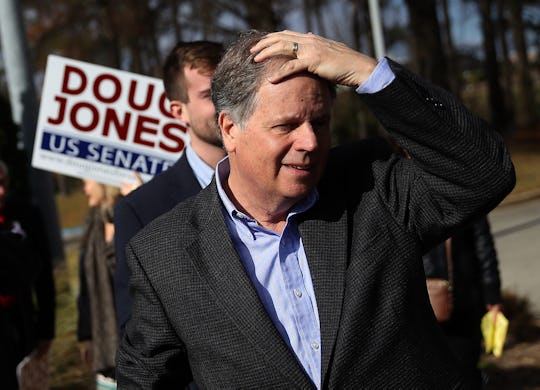 Justin Sullivan/Getty Images News/Getty Images
Twitter Reactions To Doug Jones Beating Roy Moore Prove That Hope Isn't Dead
I don't have to tell you that 2017 has been a long, difficult, grueling, glass-half-empty year. And yet, a ray of hope pierced the nation on Dec. 12, when Doug Jones (D) defeated Roy Moore (R) during the Alabama special Senate election. So the Twitter reactions to Doug Jones beating Roy Moore are not only surprising, but indicative of a small yet palpable hope. A hope that the divisiveness that has plagued this country is behind us.
It was a close race until the very end, and until votes from Selma, Alabama were counted. Which, in so many ways, was (and will remain) a problem in and of itself. Moore's campaign was plagued by disturbing sexual assault allegations; a campaign that was already contentious, according to Fox News. "Moore has previously argued that Muslims shouldn't be able to serve in Congress; he promoted the conspiracy theory that former President Barack Obama wasn't born in the U.S.; and he said in a 2005 interview that 'homosexual conduct' should be illegal." And yet, regardless of Moore's viewpoints, he was dangerously close to winning a Senate seat.
So to say that people assumed Jones, a Democrat who once prosecuted two Ku Klux Klansmen in a deadly church bombing and has now broken the Republican lock grip on Alabama, as reported by PBS, would win would be, well, a lie. With the endorsement of President Donald Trump and the Republican National Convention (RNC), people across the country were less-than-hopeful that a Democrat would win over a Republican accused of sexual misconduct with underage children.
So when Jones was projected the winner, well, Twitter went off. Here are just a few of the reactions:
Highlighting Who We Really Need To Thank
According to initial polling, as reported by The Washington Post, "96 percent of African Americans supported Jones, similar to President Obama's 95 percent support among this group in 2012." The Washington Post also reported that, "Jones fared much better than Obama among white voters, garnering 31 percent of their votes, roughly twice the 15 percent who voted for Obama." And yet, in the end and according to the data, it is Black men and women who are to thank for a Democrat winning. Twitter, of course, noticed.
Highlighting The Lessons
About The President Of The United States...
President Donald Trump gave his support and unquestionable endorsement to Roy Moore, despite the allegations levied against him, before election day. And on early Tuesday morning, the president sent tweets promising the country that the "people of Alabama will do the right thing." So Twitter users were not only quick to highlight how the Alabama election results would, potentially and questionably, harm the president, but draw attention to, once again, a Republican losing despite the president's endorsement. And according to polls highlighted by The New York Post, Trump-endorsed Senate candidates lose. And badly.
... And From The President Himself
The world waited, as always, with baited breath to see what the president of the United States was going to say in light of another Republican loss in a historically "red" state. Well, the world didn't have to wait for long.
It's odd to say, as anyone who is paying a tiny bit of attention, that anything remotely political is surprising, but the tweets sent by the Twitter faithful after Jones was announced the winner of a contentious Senate race are proof positive that while 2017 has been one unbelievable moment after the other, nothing is beyond the realm of possibility. Hope lives.
Check out Romper's new video series, Romper's Doula Diaries:
Watch full episodes of Romper's Doula Diaries on Facebook Watch.