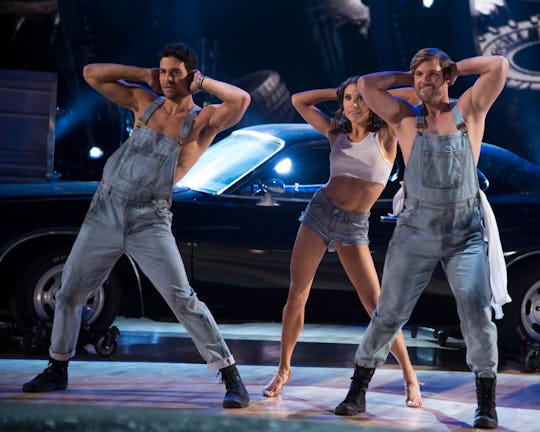 (ABC/Eric McCandless)
Grocery Store Joe Brought Out Some Familiar Faces In The "DWTS" Finale
The love for Bachelor Nation is strong. The fan base is what carried former The Bachelorette contestant, "Grocery Store Joe," Joe Amabile to the semi-finals during this season of Dancing With The Stars. So, it shouldn't come as a surprise that everyone loved when Grocery Store Joe returned during the season finale. Seriously, the Twitter reactions to the former Bachelor stars DWTS performance prove that the love for Bachelor Nation will never stop.
Sure, Joe and his partner, Jenna just got eliminated from the dancing competition last week in the semi-final round of the competition. But loyal viewers know that the DWTS season finales are a time for celebration — celebrating the contestants who have made it this far, remembering all of the amazing moments that have happened throughout the season, and a time for having some fun. Because of this, this season wouldn't be complete without reflecting on Joe's time on DWTS.
Joe wasn't the most popular dancer throughout this season — he continued to get the worst scores during the show, week after week, according to the Chicago Tribune. But, he had one of the biggest fan bases, due people's love for The Bachelor franchise. So, when Joe came back to the show to perform his memorable dance from "trio week" he brought some famous friends with him — contestants from The Bachelorette, Bachelor In Paradise, and one former Bachelor to dance to Right Said Fred's "I'm Too Sexy."
And people absolutely loved the dance.
But not everyone was a fan of the dance. After voting Joe off of the show last week, people thought they had they seen the last of him — and they were wrong. Some people were not happy at all when he returned this week, even though he was accompanied by more familiar faces from Bachelor nation.
Although it didn't seem like Joe learned any new dance moves (or learned how to dance a little better) in the past week, his fellow dancers made up for his lack of skill. Joe was joined by the following Bachelor nation stars: Eric Bigger, Dean Unglert, Wells Adams, and former DWTS contestant, Nick Viall, according to Entertainment Tonight. And now that this time, Joe wasn't being judged for his performance or skill, he did seem to have a ton of fun with his friends on the dance floor.
Sure he wasn't the best celebrity dancer of the night. But, honestly, Joe's finale dance was one of the most fun dances from this past season. And you can't blame him for having the most fun during this last dance — he had no pressure on him this time.
It looked like Joe had a weight lifted off of his shoulders during the finale — and he did when he got eliminated last week. After getting eliminated, Joe told Entertainment Tonight that he felt "wonderful" about getting eliminated. Yes, he really said that.
"I don't know if I had another dance in me," Joe said after he got eliminated. "That's why I'm kind of relieved."
Joe told also Entertainment Tonight that he had no regrets about his time on the show and that he "wouldn't change anything." At least he's honest and aware.
But there is definitely few more dances left in Joe. If fans couldn't get enough of Joe during this dance or during this season, there is some good news — during the finale, it was announced that Joe will be going on the upcoming DWTS tour. And the best news is, he can't be eliminated or be up to the criticism from the judges this time.
So hopefully this means that Joe will be a lot more relaxed and have a lot more fun. He owes his fans that much for getting him this far.