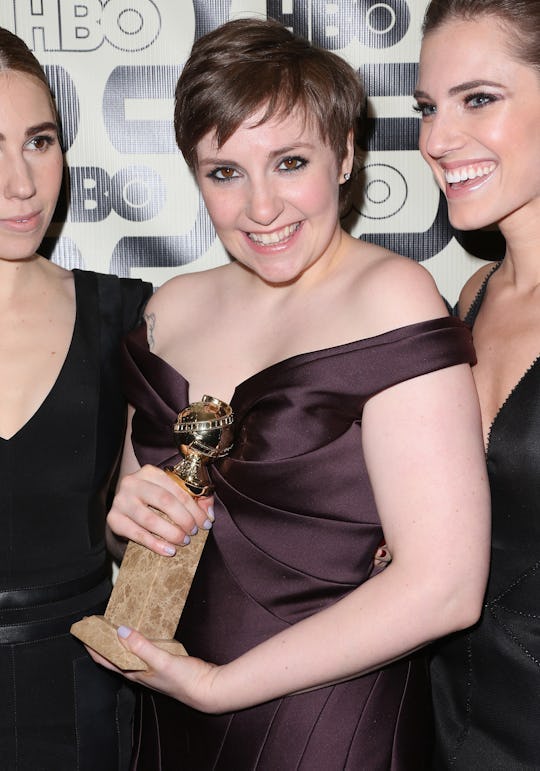 Getty Images
Twitter Reactions To 'Girls' Ending After Season 6 Show How Beloved The Show Is
That's it, Lena Dunham die-hards, Girls will end after Season 6. Variety confirmed on Tuesday that Dunham and her co-writer (and BFF) Jenni Konner have decided to conclude the series, and as you might imagine, fans' reactions to Girls ending showed that they are pretty bummed.
According to Variety, HBO still hasn't yet commented and will officially break the news Thursday at the annual Television Critics Awards. However, if you've been following Dunham and Konner, rumors about ending the series have been circulating since they sat down with Leandra Medine of Man Repeller this fall to promote their recently launched newsletter, Lenny.
While the news wasn't totally official, they told Medine that they thought the news was leaking. Dunham said she was "ready to let those girls move onto the next phase of their life that doesn't involve us filming them."
According to Entertainment Weekly, Dunham also said on the Elvis Duran and the Morning Show in September that she was starting to think about how to wrap up the girls' story lines. According to Us Weekly she said, "I started working on this show when I was 23, and now I'm going to be 30 so it kind of feels right that this show kind of sandwiched my 20s and then I go off into the world!"
Konner and Dunham also told Medine that they are going to focus on Lenny and are filming two documentaries for HBO. So there will be lots of ways to get your fix of Dunham and Konner's take on current events and what it's like to be a woman. You just won't get to see them played out by Adam Driver, which is, for me at least, a huge bummer.
Twitter was pretty bummed, too:
And also concerned about Adam:
So what happens to the girls in Girls?
According to Variety's report, Dunham has said that she knows exactly where everyone is going to end up on the show:
We spent a lot of time talking about where these girls will end up. We definitely have a distinct idea of where we want to see them. I even sometimes focus on this final image that I see, but between now and then, anything can happen.
That's probably more than Hannah or Shoshanna know about what they are doing right now, so it should be comforting to fans to know that their stories are still in good hands. Just don't start to freak yet. Girls' fifth season premieres on February 21. And then there's an entire final season six to look forward to.
We all know what happens when a show goes on for too long (can we just say Dawson's Creek?). Let's just hope some of the characters are gainfully employed by the end of the series.
Image: Frederick M. Brown/Getty Images; Giphy