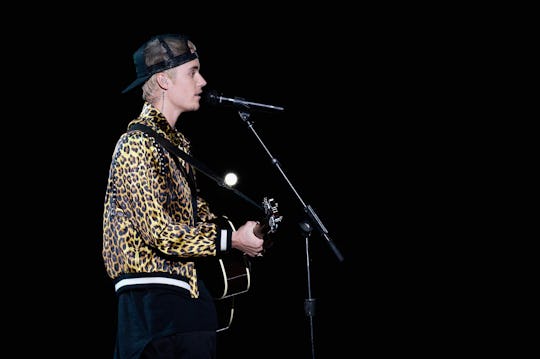 Kevork Djansezian/Getty
Twitter Reactions To Justin Bieber's Grammys Performance Prove He's Back & Even Better
Love him, hate him, or love to hate him, there's no denying that Justin Bieber puts on one hell of a performance. And he proved that during his performance at the 2016 Grammy Awards on Monday night. Although Bieber's newest album Purpose didn't make the Grammys' Sept. 30 eligibility cut-off, that didn't stop the 21-year-old singer from creating an album that spawned hundreds of dance videos and solicited him at the comeback kid. The Twitter reactions to Justin Bieber's Grammys performance alone prove that the Biebs is not only back in the music business, but is here to stay.
After a three year hiatus form music, Bieber returned to the radio in November 2015 with his fourth studio album, Purpose. In an effort to promote the album, which blended the R&B and dace pop genres, Bieber launched Purpose:The Movement, a series of music videos to accompany the songs from the album. And it worked, with the most notable video being "Sorry." This particular single was not only music video perfection (intricate choreography and brightly colored clothes always win), but "Sorry" was a way for Bieber to apologize to his fans for all he's done to let them down. Which, for the Canadian-born singer, is a lot. During his three year break, Bieber became a tabloid star, for alleged drug use and many physical and verbal altercations. But when Bieber stepped onto the Grammys' stage Monday evening, he seemed like he had his act together again.
Of course, Beliebers were first to take to social media to praise Bieber's grammy performance:
And, as always, there were the haters who just wanted to see him fail.
But most importantly, fans were there to tell Bieber that he doesn't need to say sorry any more.
All has been forgiven, Bieber. Now go forth and make your fans proud.