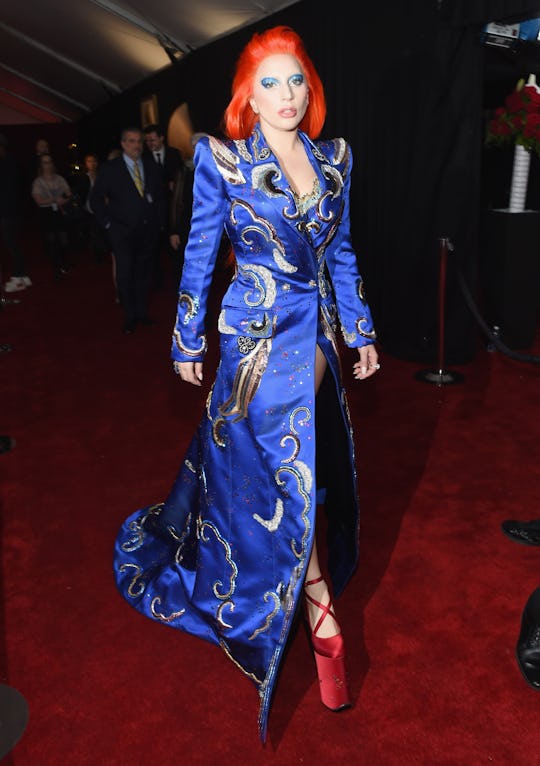 Larry Busacca/Getty Images
Twitter Reactions To Lady Gaga's David Bowie Grammys Dress Proved Both Artists Enjoy Life On Mars
Anytime Lady Gaga walks a red carpet, everyone needs to be paying attention. This year was no different. The reactions to Lady Gaga's David Bowie-inspired Grammy dress — which was inspired by Bowie's "Life On Mars" look — were all over the place. Sort of like Gaga's fashion statements ever since she stepped on the scene, right?
Lady Gaga was at the Grammys Monday to present the tribute to David Bowie, who passed away in January. And, even prior to the awards, on Sunday, Gaga posted an image of a brand new tattoo she got just for the occasion. Then she topped even that bold move with a Marc Jacobs Bowie-inspired dress. It's an emotional night for Gaga. She posted a video on Instagram en route to the red carpet in tears, saying "the world loves you David."
With her red hair and blue dress, she was all about channeling the rock legend's "Life on Mars" fancy blue suit. She completed the look with some killer red heels and over the top blue eye shadow.
And, boy, did the Internet notice. How could they not? A rock fashion legend channeling one of the most significant rock fashion legends? Twitter was pumped.
But then again, there were those who weren't as jazzed about Gaga's jazzy look.
The tribute to Bowie was rumored to be "one of the longer segments of the night," according to People. Gaga will be singing a medley of some his most popular hits.Even if you don't like Gaga, the tribute is bound to bring the house.