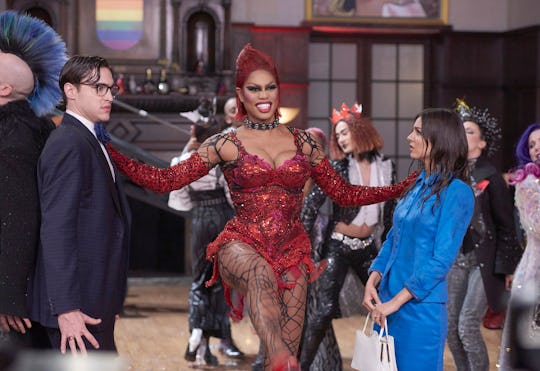 Steve Wilkie/FOX
Twitter Reactions To Laverne Cox In 'Rocky Horror' Prove She Was The Most Anticipated
While we adore the original Rocky Horror Picture Show (and particularly Tim Curry's performance in the iconic role of Dr. Frank-n-Furter), once the new remake was announced, we were excited to see its cast put their own spins on the classic roles. Some of the cast members we were most excited to see included known-rockers Adam Lambert and Reeve Carney, who we couldn't wait to watch belt out classic numbers like "Hot Patootie" and "Time Warp." But seeing trailblazing actress Laverne Cox step into Curry's famous stilettos was obviously always the peak of the remake's appeal. Twitter reactions to Laverne Cox as the remake's Dr. Frank-n-Furter prove that her take on the classic character was one of the most anticipated aspects of the remake.
Even before the remake premiered, Cox's participation in the classic musical was one of the most talk-about topics. Her appearance in the role drastically changed the nature of Dr. Frank N. Furter. In the original, Curry's Frank was (obviously) a cis-gender man dressing in woman's clothing – a self-proclaimed "sweet transvestite from Transsexual Transylvania." In the remake, Frank (now played by a transgender woman) is no longer referred to as a man.
In the moments leading up to the character's appearance, fans of the original and new viewers alike were excited (and/or anxious) to see how Cox would interpret the classic role. Since Frank doesn't appear until well into the first act, even those viewers who were a little shaky on how they like the remake were holding out hope that Cox's appearance would turn everything around.
Once Cox actually appeared, about half an hour into the show, shortly after "Time Warp," excitement reached an all-time high. Fans seemed to pretty much unanimously love Frank's dramatic entrance on a crane. Viewers were also impressed by Cox's first look in the show – the first of many amazing costumes.
In general, Cox's looks throughout the entire show were a big hit with fans.
On the flip side, a few viewers on Twitter thought that Cox almost looked TOO good in the role. They found her version of Frank unfavorable in comparison with Curry's original, iconic look and performance.
While the remake itself (and Cox's version of Frank N. Furter) was hit or miss with most fans, it seems like there's one thing we can all agree on – the Orange is the New Black actress looks absolutely flawless and is truly giving this performance her all.