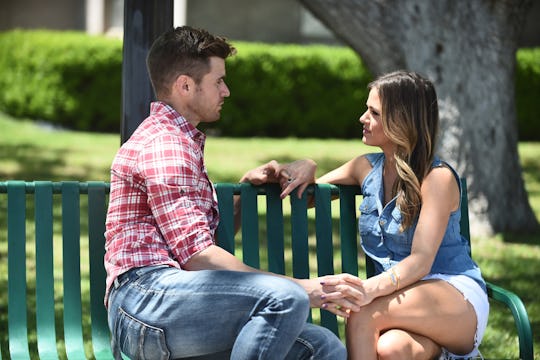 Felicia Graham/ABC
Twitter Reactions To Luke Going Home On 'The Bachelorette' Are Heartbreaking & So Real
Probably the most stressful episode opener in Bachelor history was when we return to JoJo about to reveal her top three guys, only to be interrupted by Luke (incidentally, her pick to go home), who finally said "I love you." Twitter reactions to Luke going home on The Bachelorette were almost as emotional as Luke's when JoJo finally dropped the bomb, confessing that his declaration of love was just too little too late.
The moment was clearly devastating for Luke, who could barely string words together in response. He was stunned and the pain of the breakup was evident. JoJo couldn't stop crying either, telling Luke, "This hurts me so much. I don't even know how to explain this."
But she admitted that she had struggled all season with not knowing where Luke stood on his feelings for her, even though JoJo felt so connected to him so early on. Luke did finally say "I love you" to JoJo, but only moments before she was about to give the first rose out, pulling her away from the group to admit that he effed up on their hometown date by not saying it then.
"I wanted to fall in love with you and I never got to see it through," he said after she dumped him. "This is not supposed to be happening."
In one last ditch effort to twist the knife, he feebly asked JoJo, "You don't want me anymore?"
She tried to reassure him but (accurately) stated through tears after he left, "This shouldn't have been that hard."
Twitter went through some serious grief, from the shock and confusion stages:
To straight up anger:
There was also some, uh, sympathy for Luke:
And, of course, the instant campaign of "Luke For Bachelor":
While Bachelor Nation seemed pretty shaken by her choice, JoJo stuck to her guns in sending home the guy who didn't make his feelings clear to her during their relationship while she was being honest and in it. JoJo's had plenty of experience with withholding dudes in the past, and she knows that she has three other guys who are openly reciprocating her feelings. (Even Chase, who needed a little bit of nudging.) Ultimately, JoJo seems to have made the right choice for her, which, for the rest of us, frees up Luke for next season!