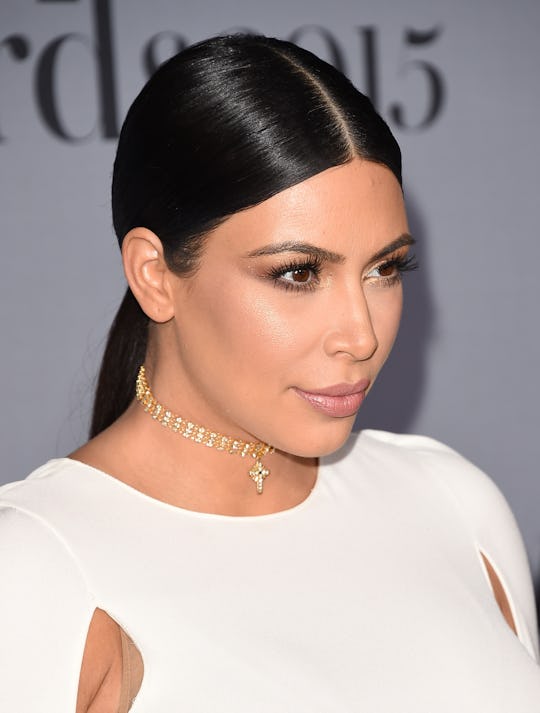 Twitter Reactions To Saint West, Kim Kardashian's Baby Name, Show The Internet Is On Its A Game
The thing we've been eagerly anticipating for months has finally happened. No, I'm not talking about the birth of Kim Kardashian and Kanye West's baby Saturday. I'm talking about the reveal of Kim Kim Kardashian and Kanye West's baby name Monday. Because, after the couple chose to name their first child North West, we all knew to expect something either adorably catchy or completely bananas. And when we found out the couple's son's name, we knew Twitter would react to Saint West. Especially since Kardashian and West made us wait patiently for most of 2015 to find out who exactly would be joining North West.
Prior to finding out Kardashian's son's name, it was difficult to know which direction (ha) the couple would take things with their newborn. Would they choose a sentimental name, perhaps naming their child after Kardashian's now-deceased father, Robert Kardashian? Or would their compass shift towards a name similar to North's, with many speculating Kardashian and West would name their baby Easton after the reality star told Ellen DeGeneres she liked the name. (West, however, didn't — nor did he and Kardashian like South, a name that was joked about on the Internet quite a bit, as one would expect). In fact, all we knew prior to the birth of the baby is that, for the most part, Kardashian herself didn't even know what she would name her son — she has said she doesn't pick a name until she's eight months pregnant.
But, Kardashian and West chose Saint West, no middle name, and, as usually, Twitter chose to react to it. Here's what some of the Internet is saying about the big reveal.
Praise
Shade
Pointing Out That There's Another Saint In Town
Looking To The Feature
Iconography
Seeing What You Did There, Kimye
Anticipating The Apocalypse
Blaming Kanye
Drawing Necessary Comparisons
Image: Jason Merritt/Getty