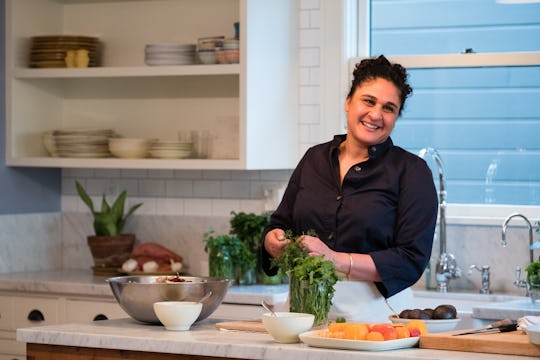 Netflix
Twitter Is In *Love* With Samin Nosrat & 'Salt Fat Acid Heat'
It's not that often that a cooking show stirs up so much passion. Netflix's new docuseries, Salt Fat Acid Heat, breaks cooking down to a simple science, and its host, chef Samin Nosrat makes it look like a lot of fun. The show has been getting tons of buzz, and the Twitter reaction to Salt Fat Acid Heat proves that viewers have been hungry for a show like this.
In the four-episode series, Nosrat travels the world to discover the four basic elements of cooking — salt, fat, acid, and heat — which she describes as the secret to good cooking. "Commit to mastering them, she says in the first episode, "and you can become not only a good cook, but a great one." She starts out in Italy, where she explores the use of fat — like oils and lard — in cooking, and then tackles the utilization of salt while she tours through the islands of Japan. To demonstrate the power of acids, Nosrat heads to the Yucatan in Mexico, and then comes back home to California to unlock the cooking potential of heat in the final episode.
But Salt Fat Acid Heat isn't just an ordinary travel culinary journey. Nosrat brings cooking to the audience in a very relatable way, without the intimidating culinary lingo you find on many cooking shows. The easiest part of watching the series is seeing Nosrat enjoy herself along the way, Twitter totally noticed:
The series is visually delightful as well. The camera not only captures amazing landscapes like the mountains of Japan and the blue seas around Italy, it also found a sensual way to bring the foods alive. Some people noticed how quiet the cooking scenes are on the show, but most people took to Twitter to air their food lust:
Nosrat is not a formally trained chef, and her story is pretty inspiring. In an interview with NPR, she revealed that after eating at a fancy French restaurant, she fell in love with the flavors, and asked them for a job. She began working in the kitchen, and soon realized that the key to cooking was based in these four basic elements. She also realized that most novice cooks may not know how simple cooking is, and so she created her cookbook (and the Netflix series) to inspire people to cook with confidence.
"The elements and the sort of tenants of professional cooking don't always get translated to the home cook," Nosrat told NPR. "Recipes don't encourage you to use your own senses and use your own judgment. And salt, fat, acid and heat can be your compass when you don't have other maybe tools."
After working in the restaurant for two years, Nosrat moved to Italy to learn about the cuisine. "A few years after I started cooking, I moved to Italy," she says in the first episode. "I wanted to learn more about, and eat, all of my favorite dishes, right at the source." While traveling through Italy for the episode, Nosrat is seen speaking to locals in fluent Italian, it's safe to say, Twitter was pretty impressed with her language skills:
After watching Anthony Bourdain tackle global cuisine on his CNN series for years, it was refreshing to see a confident woman do the same, but in a real way. She also featured a range of female cooks throughout the series, and fans took to Twitter to point that out:
Fans are really hoping to get another season of Salt Fat Acid Heat, but Netflix has yet to reveal any renewal plans. With all the positive feedback and Twitter buzz, I'm sure the execs are listening, so there may be a chance it comes back for a much-needed second season.