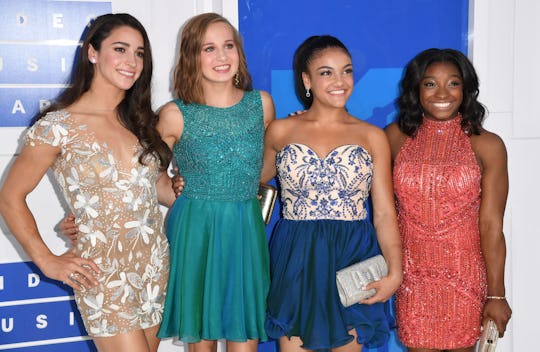 ANGELA WEISS/AFP/Getty Images
Twitter Reactions To The Final 5 At The VMAs Prove Just How Loved They Are
It's one thing to win a bunch of gold medals in the Olympics, but it's an entirely different kind of life goal to hug Beyoncé. The U.S. Women's gymnastics team got to do both this summer, so you can be properly jealous. Don't feel alone, though: Twitter reactions to the Final 5 at the VMAs show just how loved they are and just how much everyone wants to be them. Because they are quite possibly the coolest girls in the entire world.
They weren't all there, though, which was a total shame. Aly Raisman, Laurie Hernandez, Simone Biles, and Madison Kocian presented the award for Best Female video without Gabby Douglas, who was too sick to attend the awards. Douglas tweeted earlier in the day, "Out of hospital & resting comfortably!"
She added that she was bummed she couldn't present with her team and lots of sad emoji. And seriously, what a night to have to call out sick, because the winner of the award was Beyoncé, who gave each of the girls a long hug as she made her way to the mic to say thank you. Watching the athletes geek out over Beyoncé was almost better than watching them sweep medals in Rio.
Everyone sort of felt the same way on social media.
The team has been enjoying a lot of perks since the Olympics. During the games, Simone Biles admitted she had a crush on Zac Efron, who was in Rio as a spectator. While the girls were on The Today Show, Efron made an appearance surprised them, even giving Biles a mini smooch on the cheek. She basically melted. Anyone would have, but watching her melt was particularly fun, since usually one can only see her competing and looking tough as nails.
Likewise, Raisman exchanged a few tweets with Chrissy Teigen, who was at home cheering the team along. Teigen tweeted to the gymnast, "I don't want to seem forward but I feel like we would be friends please? We love you." Raisman quickly replied, "OMG YES. I love u and ur husband. Can we please be best friends & can I send ur daughter some of my leotards?" Teigen turned down the leotards, but it looks like the two could totally be besties in the near future.
No offense to Teigen or Efron, but meeting Bey is probably the best perk of being Olympic champs. And those girls totally deserve it.