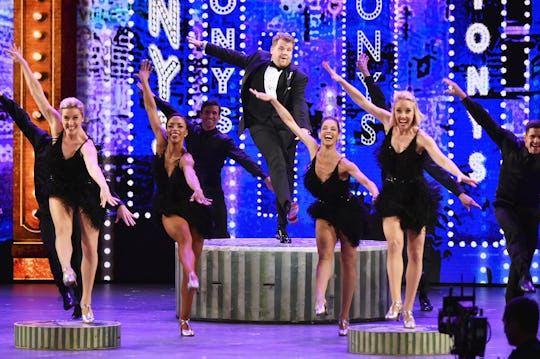 Theo Wargo/Getty Images Entertainment/Getty Images
Twitter Reactions To The Tonys Show It's Exactly What The World Needed Sunday Night
Sunday was, for lack of better words, a tough day. From the Orlando shooting that left more than 100 people dead or injured to the armed man caught on his way to the Los Angeles pride parade, it's been a horrific day for the United States. It might seem difficult to reconcile Sunday morning's tragedy with the evening's celebration of theater, music, and dance, but Twitter reactions to the Tonys showed it's exactly what the world needed after an incredibly sad day.
When host James Corden opened the awards, he briefly (and poignantly) explained how the Tony Awards are a celebration of the diversity and inclusion, saying:
All around the world, people are trying to come to terms with the horrific events that took place in Orlando this morning. On behalf of the whole theater community and every person in this room, our hearts go out to all of those affected by this atrocity. All we can say is you are not on your own; your tragedy is our tragedy. Theater is a place there ever race, every creed, every sexuality is equal, embraced and is loved. Hate will never win. Together we have to make sure of that.
And the Tony Awards celebrated that principle: love was celebrated, despite the tragedies of the morning, and fans took notice:
Not only did Corden pay tribute to the victims of the Orlando shooting, but so did Hamilton creator Lin-Manuel Miranda. In his acceptance speech/sonnet for Best Original Score, Miranda said:
When senseless acts of tragedy remind us that nothing here is promised, not one day, this show is proof that history remembers. We live through times when hate and fear seem stronger. We rise and fall and light from dying embers, remembrances that hope and love lasts long, and love is love is love is love is love is love is love is love is love. Cannot be killed or swept aside.
It was the perfect way to pull the world back to the ground after a horribly sad day. I was unsure how I'd feel about watching something as celebratory and fun as the Tony Awards after such tragic events, but I was entirely wrong. The magic of theater lies in its vibrant, loving community and how everyone is welcome in it. Judging by the tweets from fans, they managed to remind the world of that sense of hope and love when we all needed it most.