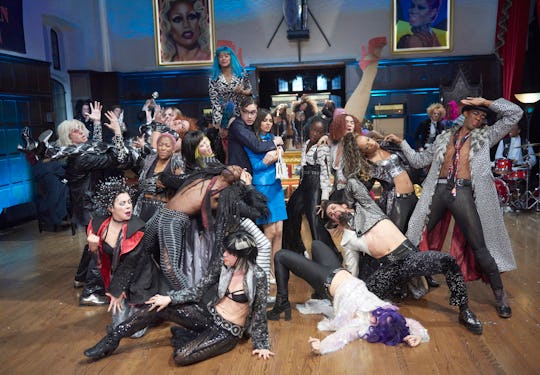 Steve Wilkie/FOX
Twitter Reactions To "Time Warp" Prove Why It's One Of 'Rocky Horror's Most Famous Songs
The original 1975 version of The Rocky Horror Picture Show is known for many things. The iconic performances of the cast – and particularly Tim Curry in the show's most famous role, Dr. Frank-n-Furter – are definitely a high point. But even beyond that, the cult classic popularized so many enduring songs that Rocky Horror super-fans and the general public alike can't stop singing, over 40 years after their release. One of the catchiest numbers is, without a doubt, the early group number "Time Warp." Unsurprisingly, Twitter reactions to "Time Warp" in the new Rocky Horror remake prove it's always been (and always will be) one of the greatest and most beloved songs from the movie.
As expected, the public's reaction to the remake's version was mixed. Some fans were dead-set on the idea that the song, one of the most memorable from the original, could never be matched. Others were able to appreciate the new take that the FOX adaptation took on the classic – or, at the very least, that the performers in the remake were extremely talented.
In any case, anticipation even before the number had started was at an all-time high. This wasn't too surprising, given the fact that many consider "Time Warp" and "Sweet Transvestite" to be the two most "important" (or at least instantly recognizable) songs in the musical.
As in the original, "Time Warp" began shortly after the innocent newly-engaged pair Brad and Janet arrived, rain-soaked and seeking refuge, at Frank's castle in the midst of the Transylvanian Convention Frank was hosting. Before Frank appeared, Riff Raff, Magenta, and Columbia, Frank's three servants/groupies, led the group of Transylvanians in "Time Warp."
While it's obviously hard to compete with the iconic performances of the original cast, some viewers were impressed with the updated version and the way the new cast gave it their all.
On the flip side, some fans were decidedly unimpressed and didn't think that the remake's version came anywhere close to the original performance. In particular, some viewers were disappointed in Reeve Carney's version of Riff Raff, when compared with Rocky Horror creator Richard O'Brien's original incarnation of the character.
Whether you loved the remake and its version of "Time Warp" or hated it, everyone can definitely agree on one thing – it certainly was its own, unique, and significantly different take on the classic movie and performance.