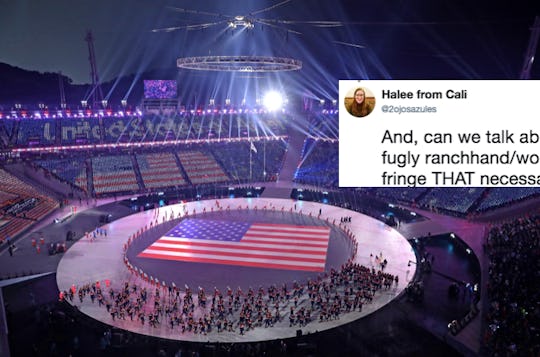 Twitter Reactions To U.S.' Opening Ceremony Outfits Prove That Not Everybody Understands *Fashion*
Ralph Lauren, arguably the most American of American designers, has once again designed the Team USA uniforms that they wore while marching during the 2018 Olympics opening ceremony. And the internet, naturally, had lots of thoughts. Twitter reactions to U.S.' opening ceremony outfits prove that not everyone truly understands *fashion.* Being a not-fashionable person myself, I generally look to the internet at large to verify if my fashion opinions are correct or not.
The venerated design house created ensembles that did, well, a lot. They included winter jackets with high-tech heating devices that were supposed to keep the athletes warm for 11 hours (handy in the record-breaking cold). The outfits were paired with jeans, old-school hunting boots, blue fair-isle sweaters, hunting boots, and of course, the tan leather gloves with the fringe that nobody has been able to stop talking about. Now me, I gotta be honest, I kinda liked the get-ups, and especially the gloves. I feel like Native American tradition gets left behind in a lot of self-consciously American-y things, focusing as we tend to do on all things red, white, and blue. But the gloves directly reference Native American aesthetic and culture and I dig it. There, I said it. But clearly, not everyone agreed with me here. So maybe I'm wrong?
Then again, there were those who were on my side of the great American outfit debate of 2018. Why not have suede fringe gloves at the Olympics?
Clearly the most polarizing aspect of the Americans' Olympic opening ceremony uniforms were the gloves with the fringe, but I don't really see the problem. So often the Olympic uniforms for countries (particularly the Winter Olympics) all sort of resemble each other. You get the big puffy coats, maybe a patriotic beanie hat, and sometimes snow pants (unless you're Bermuda in which case you're expected to freeze in the name of nationalism). So I appreciate the fact that Team USA stood out from the crowd with their tan leather gloves. And I'll be honest, they look warm as hell.
The gloves were called "winter cowboy" and compared to something one might wear on a ranch. But I would argue that those are extremely American things and so it totally counts as a win. Simply red, white, and blue is so tired. It also happens to be the official colors for several other countries, which makes it kind of hard to stand out, ya know? Other people compared the gloves to what a person would wear when embarking on a welding project which, okay that one's pretty fair. Although the fringe would probably get in the way. Another person compared them to the gloves from the movie Dumb and Dumber, which is just unkind.
Basically, my point is that the Olympic uniforms could use some shaking up from time to time. Think about the oiled-up flag bearer from Tonga. That guy, Pita Taufatofua, became famous at the Rio Olympics just for what he was wearing, which was no shirt and lots and lots of oil. He repeated this look (in sub-zero temperatures) for the Winter Olympics and that got people's attention. Do you remember what, say, Canada was wearing? How about Macedonia? Exactly.
Sure, maybe the Americans don't really need to be able to stand out from the crowd of countries at the Olympics. But I, for one, am tired of the same old boring uniforms those athletes get year after year. I say more fringe. More sweaters. More everything.
Check out Romper's new video series, Romper's Doula Diaries:
Watch full episodes of Romper's Doula Diaries on Facebook Watch.