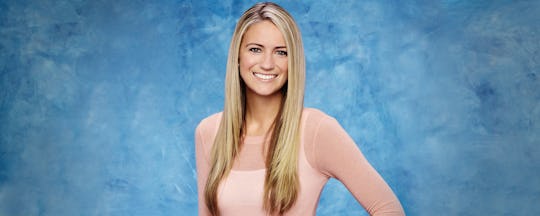 ABC
Twitter Reacts To 'Bachelor's Tiara, The Chicken Enthusiast Who Has Won The Internet's Heart
The entire point of The Bachelor might be to help a good-looking single guy find the love of his love through the magic of television (and a pool of 28 equally-as-good-looking bachelorettes). But there are always a few wildcards in the lineup that get everyone talking, and are arguably the most entertaining part of the night. While there were a few interesting characters so far (the dentist with the big rose hat? Or the woman who brought a pony?), Twitter is talking about Tiara, the chicken enthusiast. Yes, you read that right.
Tiara, 27, was introduced as a "chicken enthusiast" (is that a job?), and it definitely seems like an accurate description. She doesn't just like chickens, she considers her chickens to be her babies — "since she doesn't have human babies," she explained — and she even keeps one special chicken, Sheila, in her home as a beloved pet (why not?). Being away from her chickens for love-finding purposes is a serious concern for Tiara: she's never been away from them for longer than ten days.
Tiara might seem a little out there, but who doesn't love rooting for the underdog? People had a lot to say about The Chicken Lady on social media, and let's be honest, it was awesome:
You Gotta Admire Her Devotion
And It Is Kind Of Hilarious
Some Took Issue With Her Chicken Enthusiast Title
And Not Everyone Was So Pro-Chicken:
You do you, Chicken Lady. You do you.
Image: ABC