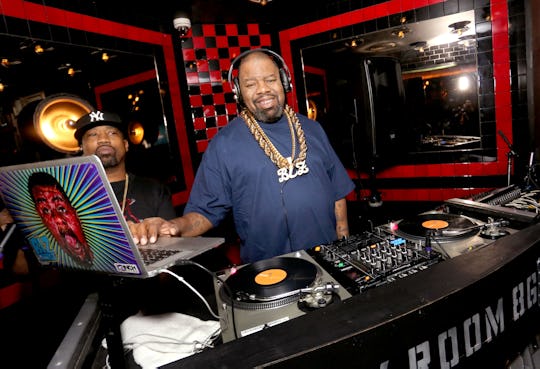 Rachel Murray/Getty Images Entertainment/Getty Images
Twitter Reacts To Biz Markie's 'Empire' Appearance & They Were Just As Excited As Cookie
This season of Empire is showing us glimpses of when Cookie and Lucious first met – and it's admittedly adorable. Both were teens, Cookie a private school girl and Lucious rapping in the street with his friends. Music helped them bond, specifically one song: the 1989 jam "Just a Friend" by Biz Markie. Much to Cookie's surprise, Lucious surprised her with a performance of Biz in the present day to remind her of their roots. Twitter reacted to Biz Markie's Empire appearance and they were just excited to see him as Cookie.
For those of you unfamiliar with Biz, he is a rapper and DJ who's been in the game since the early 1980s. "Just a Friend" is his biggest hit, and it's easy to see why. It's a tale of unrequited love that's totally relatable – and it's probably impossible not to get the hook and beat stuck in your head.
In the season premiere of Empire, we saw an initial flashback of Cookie and Lucious meeting. It became clear in Wednesday's episode, however, how influential "Just a Friend" was in their connection. At the time, Cookie was dating someone else, but Lucious didn't want her to be "just a friend" (sorry), and went after her.
As part of his attempt to win Cookie back, Lucious brought Biz to Empire to serenade her with their song. Since the song is so beloved – and Biz himself is so personable – Cookie loved every minute of it. It was clear, too, that fans on Twitter did too. Social media was immediately abuzz about the surprise:
The throwback with Biz was amazing to behold (and to jam out to), but will "Just a Friend" rekindle Cookie and Lucious' love? It would not be the only reason Cookie goes back to Lucious, but it certainly can be part of it. On Wednesday's episode, it seemed evident that "Just a Friend" brought back happy memories for Cookie. It's hard for her to forget Lucious' horrible actions, though, especially when he continues to do them (i.e. causing Jamal to have a panic attack when asking to perform). Whether their courting – or re-courting – will continue, we just have to stay tuned.