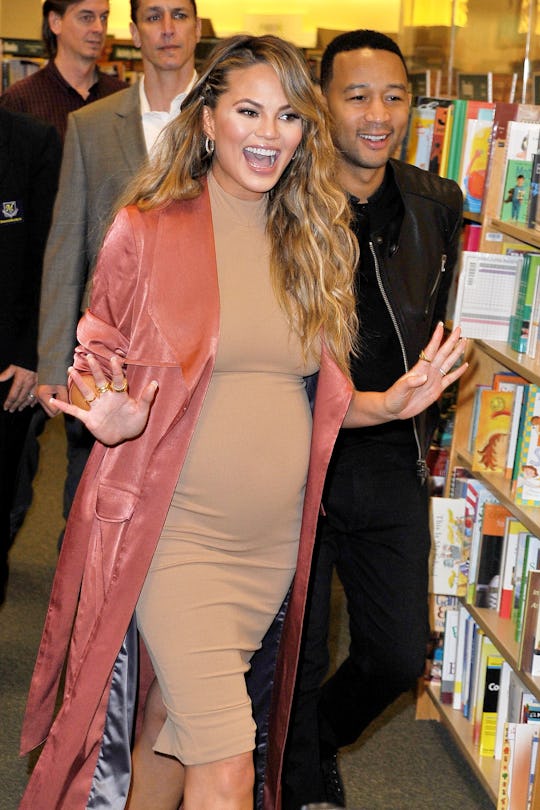 Jerod Harris/Getty Images Entertainment/Getty Images
Twitter Reacts To Chrissy Teigen's Baby In The Best Way Possible
Chrissy Teigen and John Legend finally announced the news that we have all been waiting for — the adorable couple officially had their baby, a daughter, on Thursday, April 14. This is Teigen and Legend's first child and undoubtably one of the coolest celebrity babies, thanks to her very cool parents. I know I was pretty happy when I heard the news of the new baby's birth. So, it is no surprise that Twitter too reacted to Chrissy Teigen's baby in the best way possible.
Both Teigen and Legend took to their social media accounts on Sunday morning to announce the birth of their daughter, named Luna Simone. Teigen posted a photo of the baby's weight (6 pounds, 11 ounces) on her Instagram account with the caption,
She's here! Luna Simone Stephens, we are so in love with you! And sleepy. Very sleepy.
Legend also tweeted the good news, writing on his personal Twitter account, "Our new love is here! Luna Simone Stephens, born on Thursday, the 14th. We couldn't be happier!"
The baby's last name is Stephens because John Legend is actually a stage name for Legend's birth name — John Roger Stephens. The parents seem overjoyed at the birth of their new child (how could they not be?) and Twitter users seem pretty happy about it, too.
Teigen and Legend announced that they were expecting their first child in October 2015. Before then, Teigen had been candid about her struggle to conceive a child and open about undergoing IVF treatments.
"As many of you know, we've been trying to have a new baby for a while now," Teigen wrote in an Instagram post announcing her pregnancy. "It hasn't been easy, but we kept trying because we couldn't wait to bring our first child into the world and grow our family. We're so excited that it is finally happening."
Teigen, a known foodie, recently released a cookbook called Cravings in the beginning of March, which made its way to the top of the New York Times Best Seller's list shortly after its release, and one month later, where it still sits at Number One. Maybe the best way for fans to celebrate the birth of the new baby is to make a recipe out of the cookbook, like this excited fan did. Maybe something sweet?
One of the most famous moms on the planet, Kris Jenner, also tweeted out her congratulations to the couple. The Jenner-Kardashian clan threw Teigen and Legend the coolest baby shower in March in honor of the soon-to-be-birth of baby Luna.
Tiegen, a former Sports Illustrated model and Legend, a singer will undeniably be the coolest and funniest parents to their new bundle of joy. In an interview with Self Magazine, Teigen stated how she ultimately wants four kids and how prepared she is to be a mother. "We are going to love the s*** out of our kids, but we are going to team up and fight them in pairs," she said.
I am so happy for the two and it seems the majority of Twitter echoes my sentiments. Because of course they would — wouldn't you?