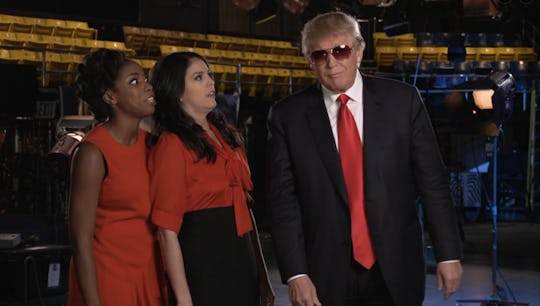 NBC
Twitter Reacts To Donald Trump 'SNL's Monologue, & Not Everyone's Laughing
For political junkies, watching Donald Trump take the Saturday Night Live stage tonight was like tuning into the Superbowl. And Twitter reactions to Donald Trump's monologue made for a solid kickoff and were certainly more interesting than the monologue overall. More than any debate or impromptu appearance, Trump hosting SNL in the middle of a GOP primary race is just perfect political theater. No matter how you feel about the man, how could you resist tuning in? Would he be funny? Would he call Hillary Clinton a dog? Would he trip? This is live television, people, anything goes. 
But he did none of that. In fact, the monologue was super tame. And of course, the bulk of his monologue focused on humblebrags and insulting NBC. In fact, he even managed to get some digs in on Rosie O'Donnell, fueling their long-term beef.  And insulting Darrell Hammond's Trump character. 
The best part? Larry David heckling him because he heard he'd get $5,000. 
Either way, the whole world was watching tonight and these reactions are priceless.
Straight up: the monologue was boring. And it set the tone for the rest of the show: SNL cast this season is pretty good, Trump not so much. But Larry David? We'll take him. 
Image: NBC