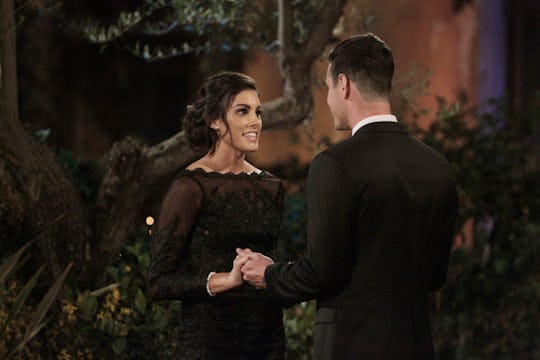 ABC/Rick Rowell
Twitter Responds To Lace Leaving 'The Bachelor' & The Collective Reaction Isn't Surprising
While most of us reeled in disbelief at how Lace could possibly still be in contention for Ben Higgins' heart, The Bachelor's biggest villain this season was having her own moment of realization. After three weeks, Lace chose to exit the show, and not because Ben finally decided she was an insufferable brat whose first night drunken antics he couldn't get over. Rather, she left on her own terms in a dramatic exit, complete with her quoting her own tattoo. Unsurprisingly, Twitter responded to Lace's Bachelor exit accordingly.
After Ben admitted that two family friends had died in a plane crash earlier in the week and deescalated a fight between Jubilee and the rest of the women, Lace pulled him aside just before the rose ceremony was about to begin, saying,
I think you are amazing. I'm mad at myself for the way I've acted since I've been here. This has been really rough for me. I have a lot of work to do on myself and I want to be able to offer you more. I just feel like going home might be easier, and maybe just continue working on myself, and bettering myself. Because like my tattoo says, "You can't love someone else until you truly love yourself." And I don't know if I truly love myself just yet. So I think it's better that I go.
"Lace was somebody I was always trying to get to know," Ben confessed to the other women as he explained her departure later. "I just don't think it was for her."
"I tried so hard and the connection wasn't there," Lace added in her cutaway interview. "I haven't had good relationships in the past and here, I have someone amazing in front of me, and I still didn't let it happen...I hope that when I do figure myself out and start loving myself more, that I do get someone just like Ben."
It looks like little love was lost between Lace and the Twittersphere, however, if these responses are any indication:
Don't shed too many tears for Lace just yet though. According to Bachelor host Chris Harrison and show creator Mike Fleiss, who spoke to EW recently, the erstwhile villain is headed to the network's popular Bachelor in Paradise series next, where she's sure to make at least a few waves. (Who are we kidding? She'll probably stir up enough controversy to steal headlines for months, if her turn on Bachelor is any indication.)
Farewell, Lace. Just don't stay away too long, because as Twitter would say, "WE NEED YOU. 'THE BACHELOR' NEEDS YOU."
Images: ABC/Rick Rowell; Giphy